BROOKLYN (PARK SLOPE): THE BEST 5TH AVENUE BOUTIQUE (THAT'S ACTUALLY OFF 5TH, BUT ON THE WAY TO BERGEN BAGELS)
By Nora Zelevansky / March 18th, 2010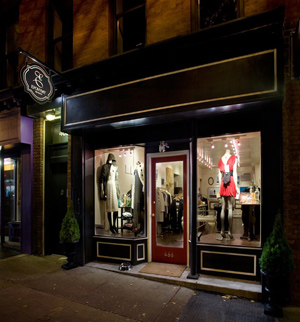 On my never ending quest for the perfect leather bomber jacket earlier this year, I happened upon Eponymy in Brooklyn.
You all know I'm a huge Park Slope fan, but I do sometimes feel there are gaps in the 5th Avenue shopping situation by comparison to Smith Street and Atlantic Avenues.  (Of course, the street makes up for it with great food.)
It's cute and all, but a lot of the stores are sort of adorable, but a little … off?  I'm just saying, ain't no Consignment/Butter or Dear Fieldbinder.
But now Eponymy opened.  The store is super cute and the lines are legit (ranging from established to pretty indie).  And the salespeople are really nice and helpful.
Plus, it's only a half a block away from Bergen Bagels.  Salt bagel, salad and black & white cookie bliss. Sounds like a perfect combo to me.
You know what's not funny?  This post.  Somedays you got it.  Somedays you don't.
xo – N.