LA (LA CIENEGA): THE BEST SHRIMP COCKTAIL
By Nora Zelevansky / March 10th, 2010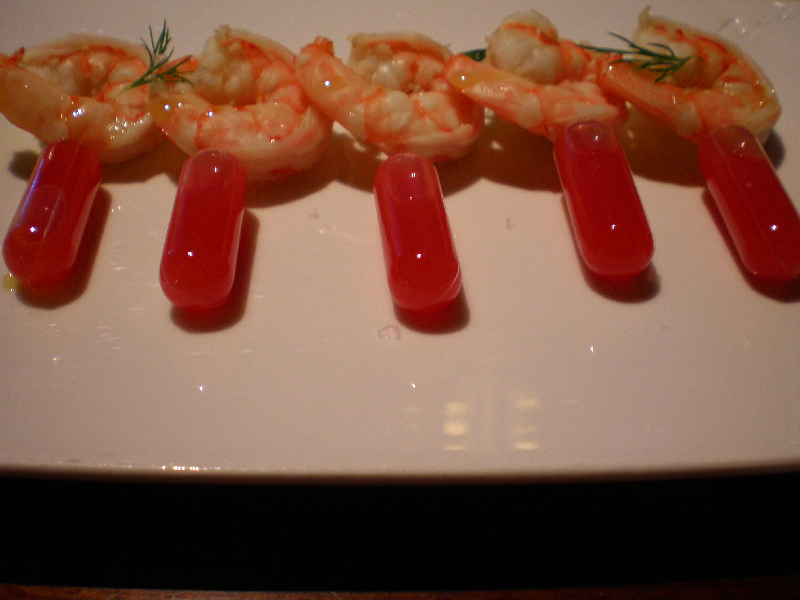 Shrimp cocktail is just one of those purely good things in life.  It's not bad for you really (well, okay, cholesterol).  But it's not fattening.  It tastes fresh and good.  It's sort of special occasion food, but it is hardly forbidden.  Shrimp is the perfect mild vehicle for cocktail sauce.  Basically, it rocks.
And, with that, I've pretty much exhausted what I have to say on the subject.
EXCEPT, I had the pleasure of lunch at Tres in SLS last week and ended up tasting the above innovative shrimp cocktail incarnation.  First of all, the presentation is obviously beautiful, but it's functional too.
See, you put the shrimp in your mouth and squeeze the capsule as you eat.  The sort of toothpick thing that spears the shrimp is actually hollow, so as you eat, the spicy red liquid (which tastes like the world's best bloody mary mix) squirts into your mouth.
I mean, SHUT. UP.  And voila: the best shrimp cocktail!
And that is (sorry I have to) Tres bien.
xo – N.
P.S.  Apparently, the restaurant also just launched tea service and brunch.  Do you think the scones will have cream capsules attached?
P.P.S.  I also tasted these mini-short rib sandwiches and the chicken and dumpling soup and I highly recommend!