LA (GUINEA PIG): THE BEST WAY TO STRAIGHTEN YOUR HAIR SANS DRYER
By Nora Zelevansky / April 21st, 2010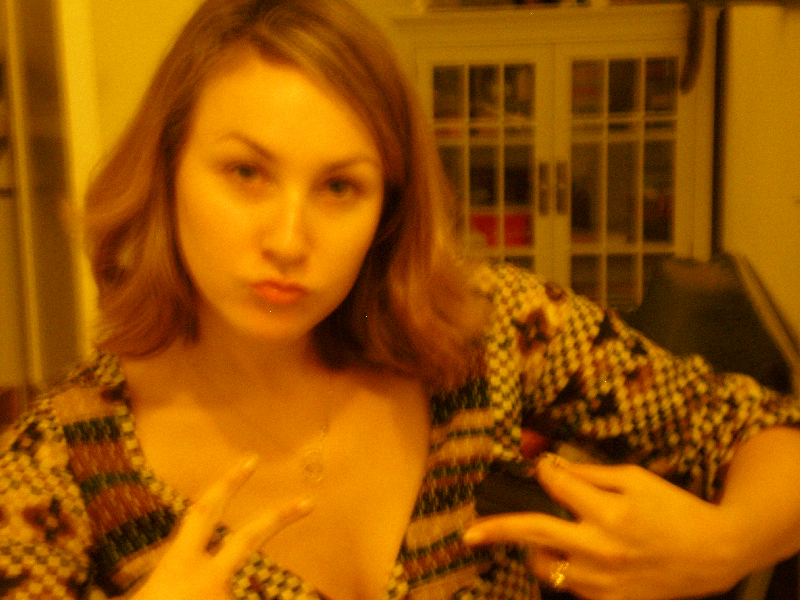 Don't ask me why this image has that strange yellow hue, why I'm posed like some kind of confused homeboy or why my fingers look so weirdly double jointed.  And definitely don't ask why I was willing to post this picture despite those potentially embarrassing factors.
But ANYWAY … my wonderful Brazilian blowout faded long ago and I, for one, am sick of blow drying my hair.  Also, I'm sick of choosing between my natural curly (which is really unpredictable and basically not reliable enough to wear) and pin straight.
What, you may ask, does that have to do with the above photo?  Well, in a short span of time, two different ladies in my world (both with that perfect beautiful wavy frizz-free hair) told me the same secret: that they let their hair dry naturally and then use curling irons to "straighten" it instead.  I decided I had to try.
To be honest, I didn't expect good results.  After all, when I let my hair dry and then use a straightening iron, the ends always look raggedy.  But I had them coach me via email and then I allowed my hair to dry naturally and slept on it.  Then, the next morning, I showered with a cap and went to work with this new FHI Heat digital curling iron with this awesome computerized heat setting mechanism.  (I've used the straightening version I got in the world's best gift bag for years and I'm sort of obsessed with their products.)
Now, I've gotten conflicting advice about the ideal size of the barrel and I think it depends on the thickness and (especially!) length of your hair: the shorter the hair, the smaller the ideal width of the iron.  But for my purposes this time (pictured all yellowy above), I used a 1 1/4-inch version, which was a tiny bit thick maybe?  As the "experts" suggested, I wrapped small sections of my hair in coils up around the thing.  It took me a few tries and some brain teasing to figure out which direction to curl the hair, so it ended up matching on both sides with waves towards facing towards the back of my head, but I sorta got the hang of it (as I think you can see above and maybe even better below).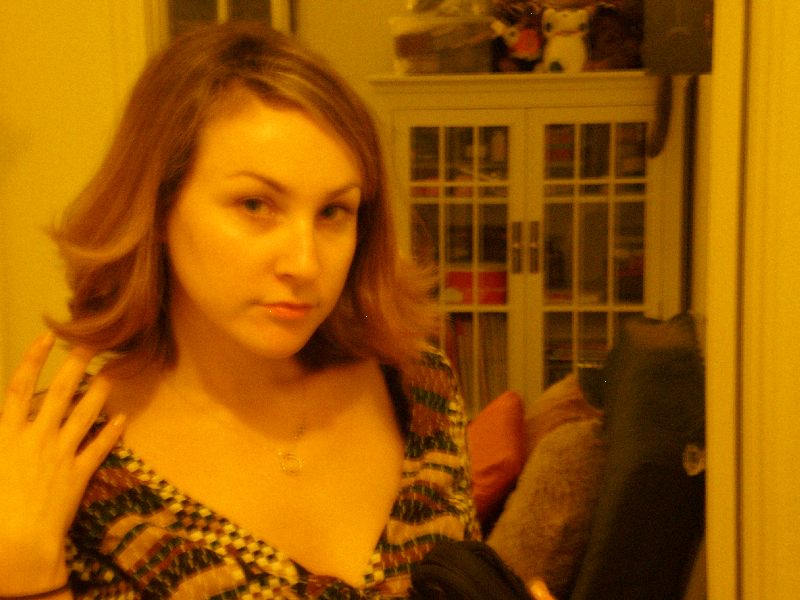 It did take a lot less time than a whole blow dry scene and I'm sure the more adept you get, the less time it takes.  I kinda like that it's not so perfectly straight because a wave is nice, although I did feel a bit like a Farrah or Flying Nun wannabe.
Overall, a successful experiment though, I think.
Well, successful except for the pictures.
xo – N.