LA (PASADENA TO ALHAMBRA): THE BEST WAY TO SPEND A SUNDAY AND (MAYBE) END UP WITH A NEW RED LEATHER MOTORCYCLE JACKET
By Nora Zelevansky / April 26th, 2010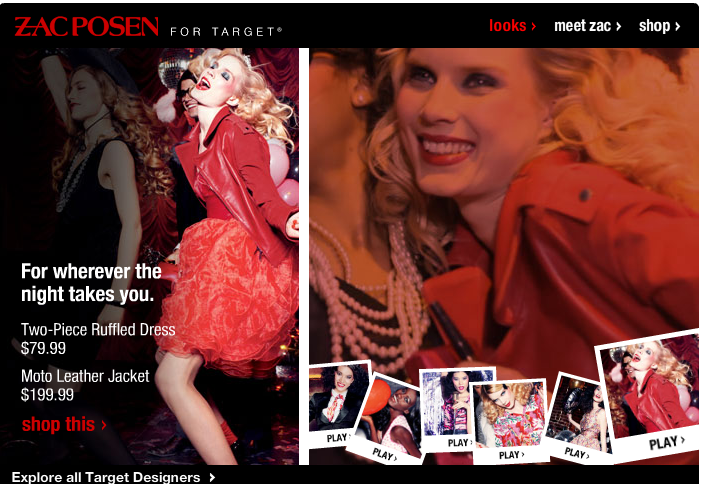 The early bird gets the worm.  Or so I hear.  Generally, the earliest hour I see involves full sun and brand new Oprah episodes.  Okay, that's a slight exaggeration, but suffice it to say that I don't really do mornings.  Or Oprah really.  But that's another story.
But I made a morning exception this Sunday, when M. & I headed (strategically) at 8am to a lesser traveled Target in Pasadena to check out Zac Posen's new capsule collection before it was snatched away by the waiting fashion-possessed hordes.
Suffice it to say that I went TOTALLY overboard, but my favorite item of all is a fairly simple black cardigan with some subtle sparkles embedded, a sort of nod to military shoulder and mesh sleeves.  Seriously.  I almost bought two.  I think maybe I should have bought two.  WHY DIDN'T I BUY TWO???
Anyway, I meant to take pics of our shopping process, but–blame it on the early hour–I forgot to record the event.  Actually, you should be grateful cause I look a little frightening that early on a Sunday.  Here's a model picture of the cardigan, although you can't see all that much.  I plan to wear it with just a bra too.  To work meetings.  But without a bottom too.  Does that seem too conservative?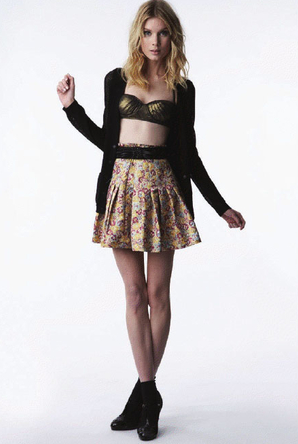 Oh, wait, here you can at least see the sleeve and shoulder details: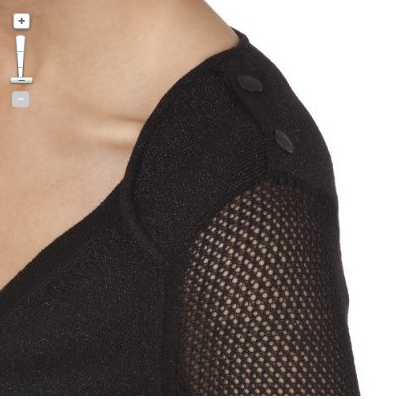 I also bought the above (and below) red leather and suede motorcycle jacket, which I may need to return, so someone who will love it better can have it.  I think it's awesome, but will I really wear it?  Not sure.  Oh well.  Something to debate endlessly with anyone who will listen, until they refuse to stop being my friend or relative.  This pic below doesn't do it justice though–it looks sort of cheesy and Express here.  It's not.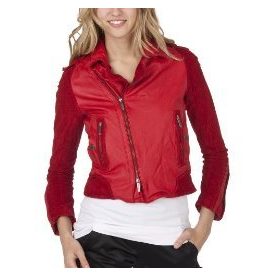 I got a few other cute things like this below dress (from far away and up close), which I really like although it's not quite as fitted on me because I had to get one that would actually fit over my chest.  (For better or worse, I am neither 4lbs or a double A cup size like the below girl.)  But it's still cute.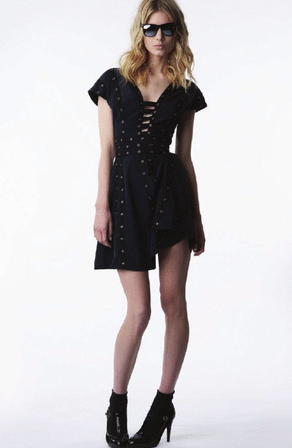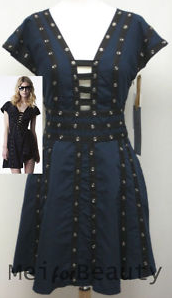 M. bought this tank in a pink zebra pattern–cute stuff!


There were some bad situations too like some tank tops with the word "Zac" splayed across in glitter or some hot mess like that.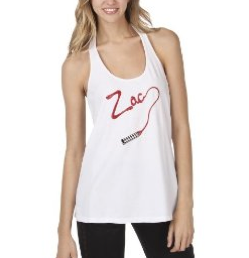 No, thank you, Zac.  Have you lost your damn mind?  I doubt Claire Danes and Natalie Portman were muses for that.  Maybe Heidi Montag.  Ick.  I don't even like saying her name.  You can't see me, but right now I'm washing my mouth out … with spaghetti and meatballs.  What?  I have Casa Bianca leftovers.
There seem to be plenty of sizes still online and maybe even in stores, so if anyone wants to know about the fit of any particular dresses or pieces, I literally tried on EVERY piece, so feel free to ask!  Except this shirt apparently, which I think actually looks cute.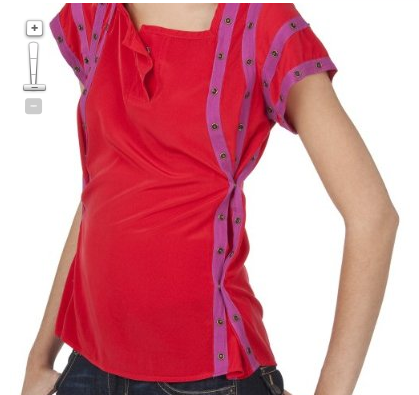 Hmph.  I should have bought it.  That way I could have set a record for
the most money ever spent in a discount store.
Anyway, the rest of my Sunday is to be continued on PL tomorrow, but suffice it to say that it involves some very Luscious Dumplings … If that's not a cliffhanger, then I don't know what is.  Now go wash your mouth out with breakfast!  I know I am.  Galaxy granola, as usual.  That's just how I roll (that's right, I roll now because of how much spaghetti and meatballs I ate).
xo – N.