LA (CULVER CITY): THE BEST HONEY FRIED CHICKEN WITH TANGY HOT SAUCE
By Nora Zelevansky / May 5th, 2010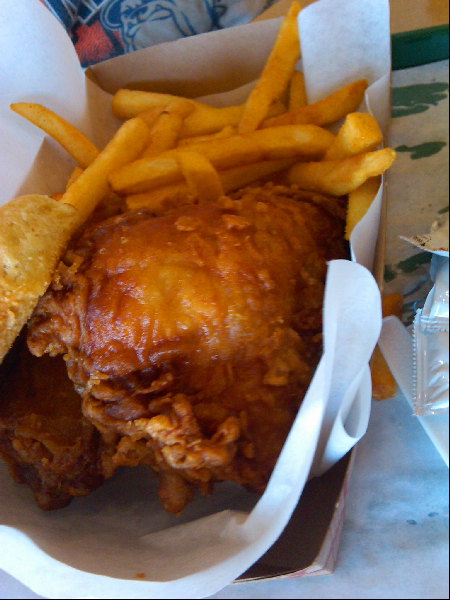 Condiments, condiments, where for art thou, condiments?  Shall I compare thee to a summer's day?  One on which I eat lots of hot dogs and hamburgers with BBQ sauce, ketchup, mustard, sauerkraut, sliced pickles and such?
Yes, condiments are one of the great loves of my life.  The list of foods I eat simply as vehicles for things like bacon salt, soy sauce, Braggs, carrot ginger dressing, Tapatío and BBQ is too long to even begin.
So, you can imagine my joy at visiting Honey's Kettle Fried Chicken, only to discover multiple dipping options from tangy hot sauce to warm luscious honey to drip on your biscuit.  (That's not a euphemism for anything; you and your dirty mind.)
My friends L.T. & K.L. had both raved about the spot and, since he'd suggested the Chicken sandwich, Andre and I split that and a lunch special with fries and a biscuit.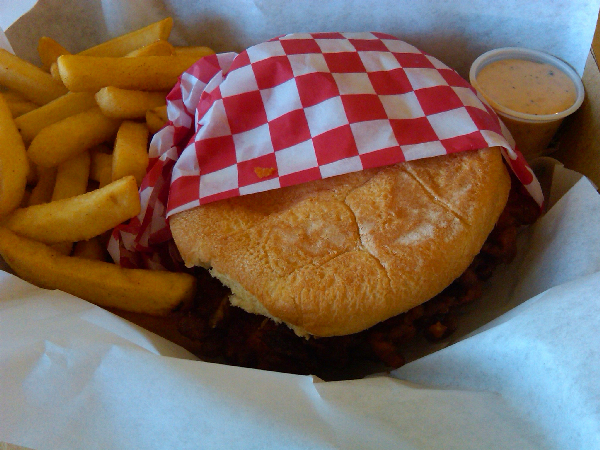 In case you were wondering, this is NOT health food.  But it IS tasty.
And also in case you were wondering, I promise that I will now take a break from writing about fried chicken of all sorts.  I know, I know.  You guys are just the unwitting victims of my culinary phases.
This one, though, is definitely worth a try.
xo – N.
P.S.  I know I should be doing Mexican food or something because it's Cinco de Mayo, but I couldn't help myself.  Next time!  Ole.