CHI TOWN (DOWNTOWN): THE BEST WINE, CHEESE AND CHOCOLATE WITH THE CHICAS
By Nora Zelevansky / June 7th, 2010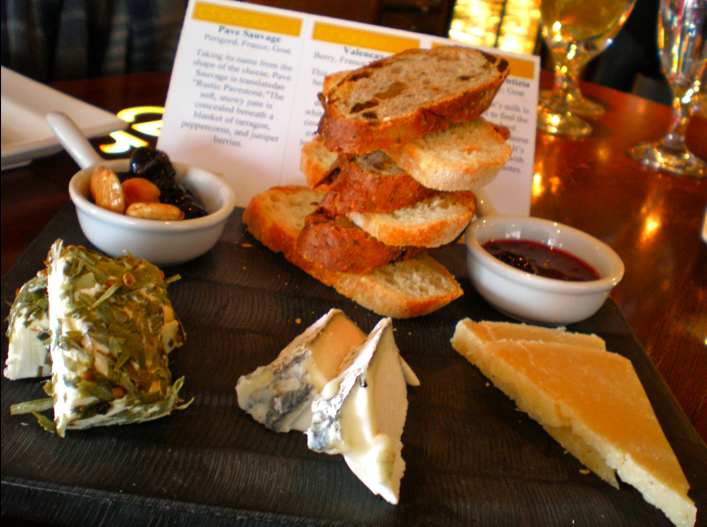 Okay, okay, this is my last Chicago post for a while.  These stories are starting to sound almost nostalgic.  That's how long ago this trip actually happened.  Back in ye olden days before oil spills and sink holes and before that Natalee Holloway sociopath struck again and … wow, three weeks ago really was the good old days.
Anyway, at least I'm not writing about my trip to Abu Dahbi with my three best friends (BTW–I hear Doha is actually the new spot–just saying).  How sick are you of hearing about SATC2?  Oh.  Sad.  I just realized that if I was writing about Abu Dhabi as Carrie Bradshaw, I'd be wearing Lanvin.  I wish I was wearing Lanvin.
But then again I'd probably be wearing it with like a weird Dior hat right now.  I mean, what is it with Carrie Bradshaw and weird hats?  If she was a friendly neighborhood homeless person, she'd totally be the one rocking garbage pail lids and paper bags as hats.  I mean, you know, if she wasn't fictional.  Ahem.
I'm sorry–did I digress?
What's that you say?  You want to hear about the above cheese?
Well, my lovable friends and I (Charlotte, Samantha–just kidding!) stayed in a suite at the InterContinental in Chi-Town, which is great because they just renovated a bunch of the rooms.  The beds were like heaven.  The bathrooms were lovely.  All good all around!
But, perhaps most memorable, was ENO, the wine, chocolate and cheese restaurant in the hotel.  (I know there are ENO siblings in the O.C. and at Hotel Del Coronado–only one of my favorite places ever.)  But I had never been.
First of all, R. had some chocolate-covered salted caramels that she FREAKED over.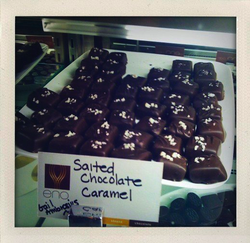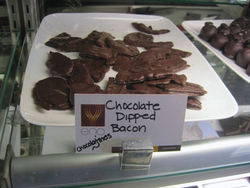 There was chocolate-dipped bacon too.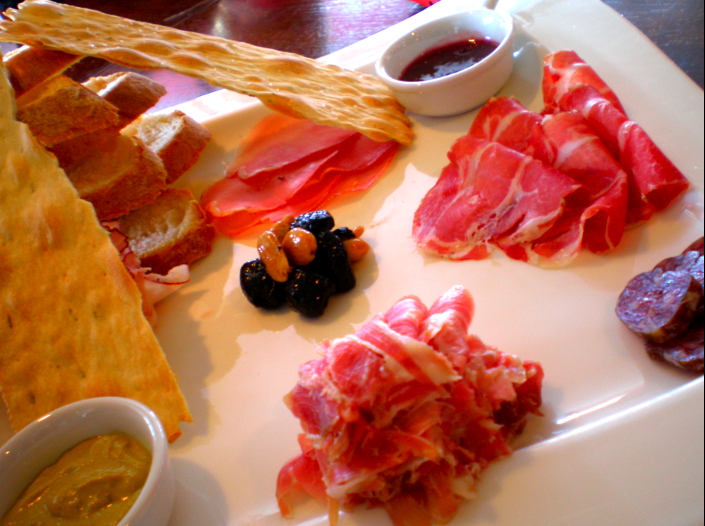 Late afternoon, following a day of shopping and such, M., R., T. & I sat at the sort of bar height tables and ordered the above cheese plate, a side of olives (three types) and charcuterie.  The food was delicious–exactly what we wanted it to be!
The meats were so flavorful and, of course, we got a whole goat cheese situation for little old lactard me.  The truth is that–unless it's the summer, when nothing but guacamole, chips and a margarita with salt will do–there is no better late afternoon snack than charcuterie, cheese, chocolate and wine.
In fact, I think that might also be the four food groups.
Am I missing one?  Oh, right: french fries.
xo – N.