LA (B.H.): THE BEST POOL TO CRASH
By Nora Zelevansky / June 21st, 2010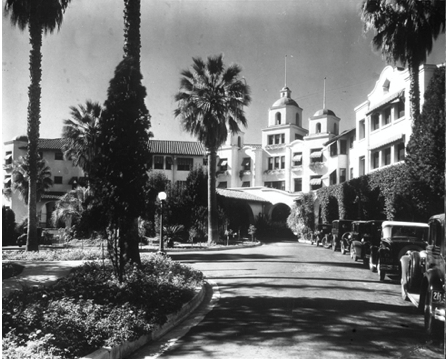 Yesterday I came home from yet another trip and I'm tiiired.
"Cheese with your whine?" you mock.
Eh, I'm too tired to argue with imaginary LINTY adversaries about my whining habits.  And definitely too tired for a real deal post.
So, in honor of LA's too easily dismissed good points, here's a black and white image of The Beverly Hills Hotel, where it's a little known fact that one can make use of the legendary pool all afternoon long, if he or she has lunch at the adjoining outdoor Cababa Café (not exactly a hardship).
Personally, I won't be lying by that pool today.  Nor will I be emerging from my home or changing into anything other than lounge wear (yes, that's how tired I am).  BUT I will be enjoying the cozy warmth of LA's dry heat, as I chill out at home–fan on, laptop fired up, kitties and Andre chilling at my side.
My idea of home sweet home …
xo – N.