LA (DOWNTOWN): THE BEST PLACE TO GET SOME COZY COTTON FOR THE SUMMER
By Nora Zelevansky / June 2nd, 2010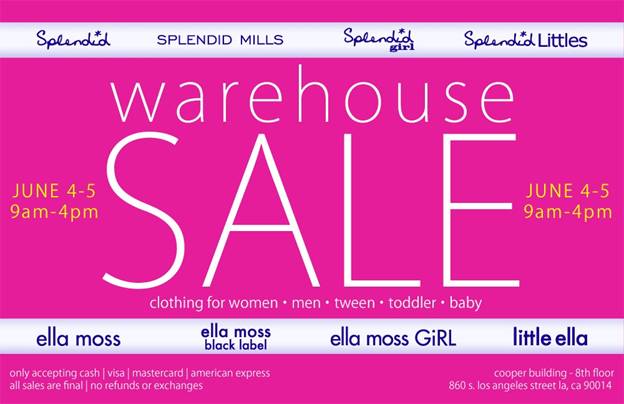 I have a theory about summer clothing that really hasn't shifted since childhood summer camp: It should be practically disposable or at least low-maintenance.  (Did you think I was going to say you should sew name tags in it?)
ANYWAY … I just think summer clothing gets worn harder.  Tees and tanks get romped around in outdoors; they get chocolate ice cream, cherry popsicle and margarita stained.  And generally that soft cotton just stretches out and gets misshapen.
For that reason, I tend to stick to Forever 21, H & M and James Perse (sales!) for the bulk of my–especially daytime–summer wardrobe.  That way I can feel pretty guilt-free about wearing it all out.  And this above Spendid and Ella Moss warehouse sale seems like JUST the ticket, full of jersey dresses and tops that will be as comfy as wearing almost nothing, but still cute!
I know, I know.  You all wore Ella Moss obsessively in the early and mid-2000's and then sort of lost track?  Guess what: The line still offers those good basics and a great stripe is still a specialty.  I know you all want your requisite nautical tanks, right?
The sale is on Friday and Saturday at the Cooper Building downtown (860 S. Los Angeles St., 8th floor) from 9am to 4pm.
So, I just thought I'd spread the good word.  The good word being "sale."
xo – N.