LA (MELROSE): THE BEST GOAT CHEESE CHEESECAKE [RED O]
By Nora Zelevansky / July 23rd, 2010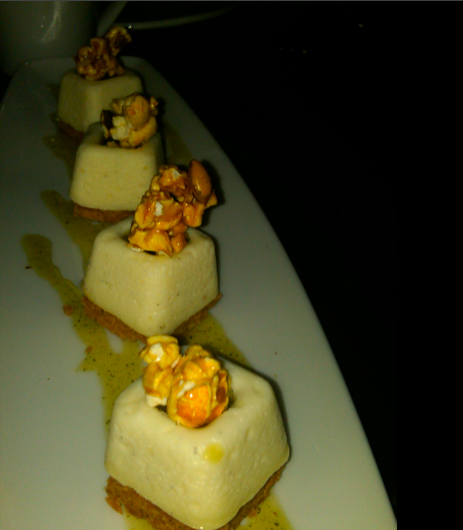 I will admit that being a lactard, deprived of cheesecake for the last decade or whatever, I might have been SO partial to ANY cheesecake I could safely eat (that wasn't made of beans) that I would have dubbed it "best."
BTW: Don't you feel bad for me that I'm often relegated to desserts made of beans?  How gross does that sound?  Would you like some re-fried bean cupcakes or maybe some lentil custard pie?  Legumes gelato, anyone?  Whatever.
Still, don't bother taking my recommendation with that pesky grain of salt: The reality is that Rick Bayless' Goat Cheese Cheesecake is delicious whether you've been trapped on a dairy-free desert island or living inside a creamery.  As if the goat cheese itself wasn't delicious enough, it comes with light root beer flavored sauce (see that green stuff above) and each bite sized square is topped with the most perfectly complimentary piece of crunchy caramel corn.
Not surprisingly, Red O was in general a big success in my book.  And apparently others agree cause the restaurant was packed to the point where they wouldn't even valet your car unless you had a reservation.  No point!  You'll never get in.  Although there is a tequila bar off to the side that also serves food and requires no reservations apparently.
My other favorite dishes of the night were Mazatlan Blue Shrimp tacos with white rice, capers and olives served with soft flour tortillas on the side and (don't roll you eyes) a Goat Cheese Tamale.  Rick Bayless and I apparently share a deep unbridled passion for goat cheese.  Ode on a Grecian Goat Cheese.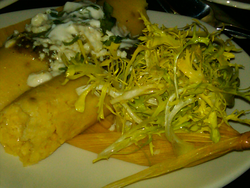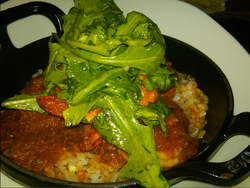 [CLICK IMAGES TO ENLARGE: Goat Cheese Tamales; Shrimp Tacos]
A Shredded Creekstone Beef Short Rib Sopes situation with tomato-green chile sauce was also delish, as was an Alaskan Halibut Ceviche with chimichurri.  The menu is actually quite big, so I'm looking forward to returning–perhaps in August when the patio will open up–and trying a bunch more things.  More goat cheese things, right Rick?  Wink, wink.
Sorry.  That's an inside joke.  But Rick totally gets it.  Goat Cheese 4-Ever!
xo – N.