LA (ROBERTSON): THE BEST TRUFFLE PIZZA [CECONNI'S]
By Nora Zelevansky / August 12th, 2010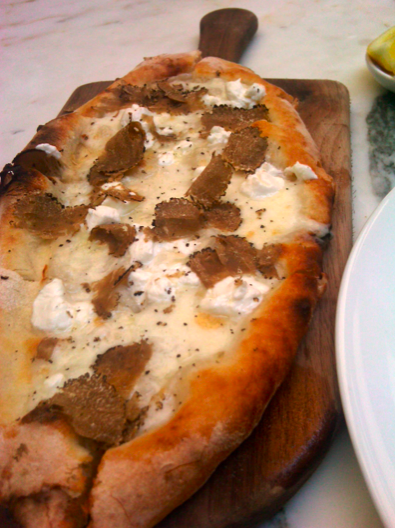 Honestly, there's very little that could cheer me up, since last night's Top Chef decision.  I won't go into the details because I don't want to spoil it for anyone, but let's just say, I was NOT pleased.  And, judging by the comments on Tom's blog, I was not alone.  Nope, I was at home among my fellow whiners, a sad group of Internet reality shows venters.
ANYWAY, the one highlight of my day was this goat cheese and black truffle pizza from Cecconi's that I ate as part of a larger delicious lunch.  I mean, SHUT. UP.  Black truffle pizza?  Sign me up!  And it totally delivered with good crust and everything.  I could have eaten three of these.  I shouldn't eat three.  But I could have.
The newest incarnation of the resto–from the peeps behind Soho House–is opening in Miami shortly.  The menu will be similar, but a little lighter because of the Florida heat.  I hope for the entire state that still includes this pizza (and the tuna tartar).  They're both signatures, so it should!
xo – N.