LA/NYC (AND BEYOND): THE BEST WAY TO MAKE ME FEEL OLD [SKINNY BOOTLEGS]
By Nora Zelevansky / August 19th, 2010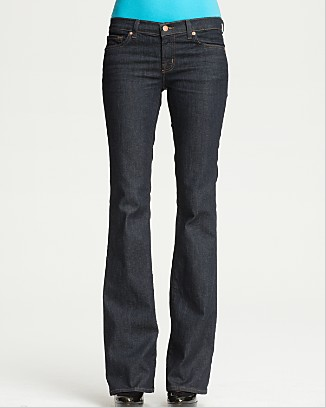 Just when you thought you got a handle on "jeggings" and could say the word without vomiting in your mouth a bit, skinny bootcuts are now the new denim silhouettes.
I can't even look at these without thinking about a certain pair of stretchy black pants in this exact shape that I wore out to clubs and parties all the time when I was 16 and 17-years-old.  With cropped tops, of course.  Also en vogue.
Granted, I went out more then, than I do now, but still!  First of all, they were basically yoga pants.  Second of all, I think you're officially old when you start seeing fashion recycled from your high school days.
Still, women everywhere should rejoice, assuming these catch on.  Cause you know nothing is less flattering then skinny jeans.  Let's just be honest.
Yeah, I said it.  LOUD.
xo – N.