SC (CHARLESTON): THE BEST MEAL SO FAR [EAST COAST BEACH TRIP]
By Nora Zelevansky / August 30th, 2010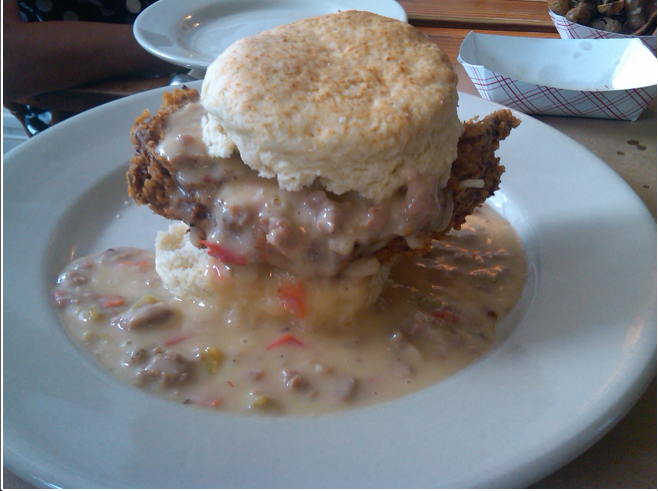 Drewser and I have been making our way from beach town to beach town in the last week, starting at an amazing ocean and pool side house, where we hung with amazingly fun peeps, on the Isle of Palms in South Carolina, just minutes from Charleston.
Then, we headed to the beachfront Sanderling in North Carolina's Outer Banks.  Next up, a quick stop in Williamsburg.  (At least, we THINK we'll stop there, it's a game time decision and the hours are ticking away.)
Finally, we'll descend upon Bethany Beach Delaware, where it's all about the boardwalk games, beach time and photo booths (if Andre will so indulge me).
BUT our favorite food experience thus far (aside from the chef cooked clam bake in SC) was at sweet little Hominy Grill in Charleston.  Andrew ordered the above "Small Plate" (yup) fried chicken, biscuits and gravy called "The Big Nasty."  But we also sampled smoked ham, pickled okra and eggs, fried cheese grits, a catfish sandwich, shrimp and grits and some VERY pleasing red velvet cake.
And now I have to stop writing.  Why?  Because I could be reading on the beach.  Sorry LINTERS.  But the surf calls.
xo – N.