NC (OUTER BANKS): THE BEST SANDWICH SHOP FOR CRAB CAKES
By Nora Zelevansky / September 8th, 2010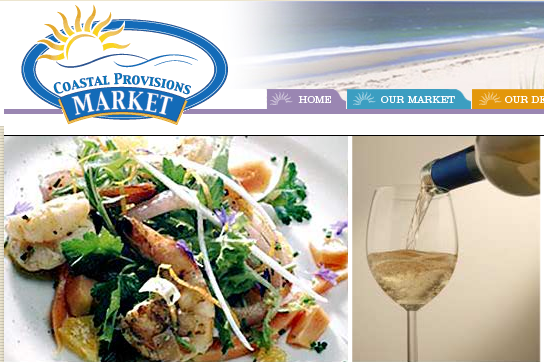 There are few things I love more than a gourmet sandwich shop.  It's true: My idea of heaven involves salt & vinegar kettle potato chips, pickles and homemade bread.  So, I make it my business to seek one out in every area I visit.
In North Carolina's beachy Outer Banks, a place I'd never visited until a couple weeks ago, I fell head over flip-flops for Coastal Provisions Market.  The company owns a few different locations, but we visited the main market sort of in the middle of nowhere, where the crab cake sandwich totally blows all others in the area (that I sampled, of course) out of the water.  They also have special sandwiches made with Virgina's famous Smithfield ham, which is super salty and tastes AMAZING.  Even if you don't like ham usually, you're bound to like this!
You can't judge a book by its cover (unless said cover is hot pink and prominently features a stiletto), but you can judge an area by its gourmet shop.
Let's just say, we got back to our sweet rooms at The Sanderling in Duck and were happy as could be with time to rest before delish dinner at the hotel's casual restaurant, The Lifesaving Station.
I'll go out on a limb and say that they can throw Andre in a life jacket and reel him in anytime, as long as there's chicken and dumplings on the other end.
xo – N.