NYC (WEST VILLAGE): THE NEXT PLACE I WANT TO TRY IN NYC [KIN SHOP OPENS]
By Nora Zelevansky / October 12th, 2010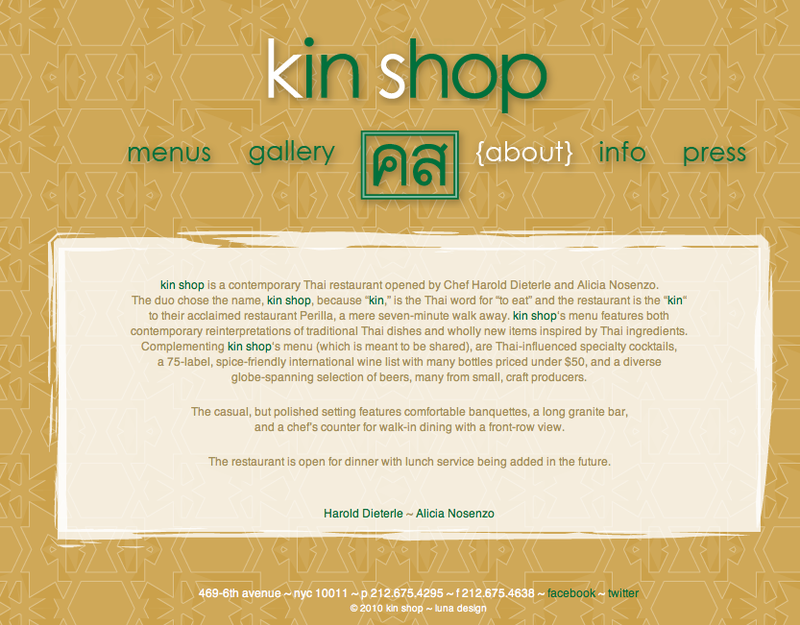 Especially in the fall, there are many days when I miss NYC and the east coast in general: The changing leaves, the fireplace smell, the Vince sweaters.  (I know, I know–you can wear them here, but it's not quite the SAME in 90 degree weather.)
Anyway, I feel that way particularly right now because "Top Chef"'s Harold Dieterle and his business partner Alicia Nosenzo opened their new contemporary Thai spot, Kin Shop, last night and I want try it BAD.
I referenced the opening in that "Top Chef" Travel + Leisure story, after interviewing the reality show alumn and restraining myself from asking stalker-like questions about the waiting room during judges deliberation, but I had no idea that it was coming so soon.  Here's a little taste of the menu options:
Spicy Duck Laab Salad with Toasted Rice, Ground Chili & Romaine Hearts
Squid Ink and Hot Sesame Oil Soup with Squid, Ground Brisket & Siamese Watercress
Stir Fried Wide Wonton Noodles with Chicken Sausage, Thai Broccoli Rabe & Oyster Sauce
Sour Yellow Rabbit Leg Curry with Multi-Grain Rice, Eggplant Chutney & Thai Basil
Stir Fry of Aquatic Vegetables with Water Spinach, Water Chestnuts & Watercress
Chili Jam
Definitely my first dinner destination when I hit NYC next time.  Until then, I'll just pine.
xo – N.