EVERYWHERE: THE BREAKFAST OF CHAMPIONS (OR AT LEAST FREELANCE WRITERS) [Special-K with red berries]
By Nora Zelevansky / November 1st, 2010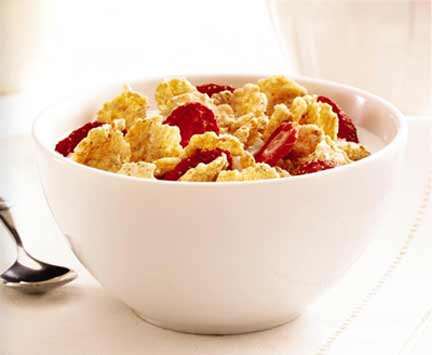 Happy November, folks.  This is the greatest month of all, in case you were wondering.  It's the month of my anniversary, election day (fingers crossed), my birthday (shared with Charles Manson and Tanya Harding), National Novel Writing Month AND the month that I make my first million.  Somehow.  Some way.  PLEASE!!!!
Thus, you need to start this month with a hearty breakfast.  That sounds like a joke.  Let's just say it is one.  I'm not even a breakfast person.  But anyway, the point is that I am newly obsessed with Special-K with red berries (a.k.a. dehydrated strawberries–my favorite!) and you will be too, if you have remotely good taste.  Yup.  I said it.
I actually haven't been a cereal person for years being lactard and all, but then R.L. introduced me to almond milk (the "original" flavor) and it's hurled me happily back into a world of Snap, Crackle, Pop and Coo Coo for Cocoa Puffs.
Actually, I'm a fraud.  I've never even had Cocoa Puffs.  I had a childhood deprived of sugar cereal and somehow they brainwashed me, so that I don't even like it as an adult.  THANKS, GUYS.  For this and the tendency to sunburn.
Anyway, the Special-K is great cause the berries are tart, so it's not even that sweet.  It's just damn good.  Also, at Whole Foods they charge so much for those containers of dehydrated berries and such.  Why is it so much cheaper just to buy this cereal?  Huh?  Tell me that!  Special thanks to C. for tipping me off on the stuff!
Happy November!
xoxo – N.