LA (SANTA MONICA): BALLET FLATS FOR THIS MOMENT [LONDON SOLE'S LEOPARD FLATS]
By Nora Zelevansky / December 13th, 2010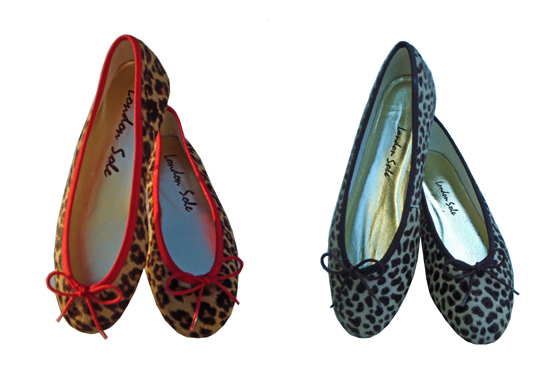 In life, there can only be one sole Survivor.  Or maybe that's on TV.  Whatever.  Reality, fantasy, blah blah blah.  It's all the same.  At least that's what I keep telling the men in white coats.  But will they listen?  No!  It's all "More lithium now!" and "Strap her down!"
I can't get no respect.
Anyway, my emphasis was actually meant to be on "sole."  Because, while there may only be one sole Survivor, I believe that when it comes to closets, soles should be plentiful.  The more the merrier (like the voices in my head).
That's why I had to rave about the above London Soles leopard print ballet flats on Mondette.com.  Such a great accessory to add some punch and shake up the status quo.  Plus, the U.K. company chose to target LA before NYC, so you can visit the shop right here on our west side.
Because you and I may not have the soul of a leopard (or so the doctors claim), but we might as well have the sole of one.
xo – N.
Pure of sole.