LA (AND BEYOND): SHAMELESS SELF PROMOTION [Supermodels/Angels]
By Nora Zelevansky / May 13th, 2011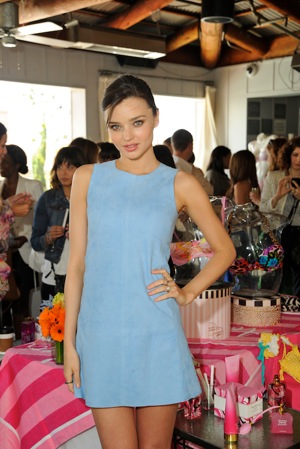 Rumor has it that "talking to an angel is like trying to catch a falling star."  Still, I didn't find the task quite so challenging at the exclusive Victoria's Secret "Bombshell Summer" kick-off event on Wednesday afternoon.
Standing next to a supermodel?  Now, that's daunting.  In fact, a picture exists of Miranda Kerr above and me, but I'm hoping it will never see the light of day (for the love of all things good!).
Anyway, I took the self-esteem lumps for Style.com, chatting up the fresh-faced, Balenciaga-clad VS "Angel" (a.k.a. Mrs. Orlando Bloom) between manicures, hand massages and makeovers at LA's notorious SkyBar.
Read all about it and Victoria's Secret events – that you can attend – all over the country in the next few weeks!
xo – N.