SUMMER TRAVEL & SHAMELESS SELF-PROMOTION [Ritz Spa Treatments, Elie Saab Perfume, Elkin's Launch, Bachelorette Gossip & More]
By Nora Zelevansky / August 11th, 2011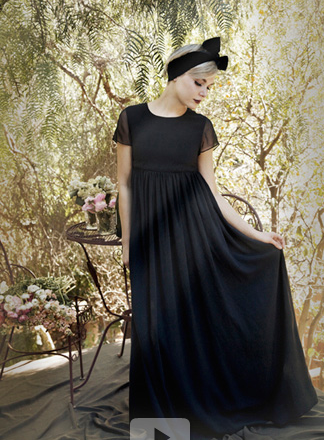 Not that I have been nearly as attentive to you chickadees as I should be, but I'm about to be even worse.
Wait — there's worse than one or two posts a week?  Why, yes.  There is.
I'm about to take a hiatus from all things work and writing and instead loll by, well, wherever they'll let me.  (And by "they" I mean the authorities.)
Still, in the meantime, I did want to leave you with some light reading that spans many different genres.  A little bit for everyone, perhaps?  Here goes:
Okay, first, I am OBSESSED with this brand new line by two sisters out of Downtown LA (see above Lake dress).  Their newest collection — the first full one — launched August 1.  I wrote about them for C Magazine and then about their official launch for Daily Candy.  Read up and shop!  How much do you want this lace dress?
Of course, my SELF.com blog "Fit Like Us" (which will be continuing over the next few weeks, despite my hiatus) covers all things fitness and health throughout the week.
For all you brides-to-be, I have a feature in the new Martha Stewart Weddings about wedding music and the country's best bands, DJs and D.I.Y. playlists.
Elie Saab has a new fragrance launching, which you can read about here in my story for elle.com.
The Ritz-Carlton Downtown just launched an insane, entirely new Spa menu, really their first major endeavor — very red carpet etc.  Read about it here at Style.com.
Also, I didn't write this article, but for all you fellow Bachelorette whores, here's some gossip on how Jennifer Love Hewitt and Ben F. "The Wine Guy" started dating.  Um. Yeah.
And … I have nothing to do with this show either, but I am OBSESSED with the new MTV show Awkward and I feel like I need to spread the word, so it doesn't get canceled like Huge.  The opening line to this last episode, "It was homecoming week and like an uncomfortably misguided tampon, it was impossible to ignore."
GENIUS!
Lastly, if you haven't yet, you MUST try the chocolate Zico coconut water.  It's INSANE.  Lactards, it will change your life.
And, with that, I guess I'm out.  Talk to you later, dudes.  Happy end of summer!
xo – N.