The Lint Collector: The Bachelor Gets To First Base (At Least)
By Nora Zelevansky / February 1st, 2012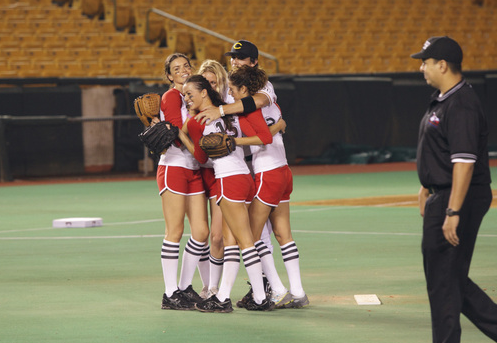 Yeah, I know.  My Bachelor recap was conspicuously absent this week.  Mostly because I watched the show with some friends and got to vent my utter disbelief on the spot.
But still I must exchange at least some thoughts with you all.  (PS I have a cold, so if this makes no sense, blame the Nyquil.  Is that even how you spell Nyquil?)
Anyway, the gang is off to The W Retreat & Spa in Vieques, Puerto Rico.  "If you don't get a rose, you'll be on a plane back to the United States," warns host Chris Harrison.  I love me some CH, but isn't Puerto Rico IN the United States?
Anyway, the first date card is in Spanish and, well, you can just imagine how our girls fair with that situation.  The PhD Emily interprets the message for them … of course.
Nicky gets the date and is all excited, dressed up in a heinous asymmetrical number that's anything but flattering.  I recommend wearing dresses with two shoulders.  It increases your chances of staying.  Just saying.
The date is good enough so that Ben doesn't send her home (and it even affords him the chance to kiss her in the rain — so wonderfully on the nose!), but I don't think he likes her enough that she'll be sticking around for long.  She exchanges her soaked one shoulder dress for an even uglier handkerchief frock plucked from some local store and, well, I would have sent her home just for picking it out.  She seems nice though.  She remarks that "any woman would be lucky to have" Ben and I'm not convinced.  But anyway.
Back at the house, the group date card is read and Patty from Millionaire Matchmaker (truly I can't remember the girl's real name anymore) will be getting the one-on-one.  She's super excited, even though everyone and her mother at home knows she'll be sent packing.  Actually, Courtney — psychopath though she seems to be — says that Patty will be going home: "I hope I get her number.  I could use a personal trainer," she quips.  Always a kind word.
The group date is a baseball game … in a porno.  The girls are dressed like Hooters waitresses in short shorts, but they're as ladylike and classy as a pack of drunk Red Sox fans.  (Requisite dig from a Yankee fan — sorry!)  The girls are separated into teams and only one group will get to spend the evening with Ben, who BTW has even worse hair in Puerto Rico than everywhere else.  Sure, it's not as flat, but now it's a frizzy poof.  Bad scene.
Blakely, Emily, Rachel and the nurse (whose name I am blanking yet again) lose and Blakely is CRUSHED.  When the inevitable helicopter comes to pick up the other team and Ben, she shouts, "I hope you guys throw  up!"  She's gone coocoo for Coco Puffs, if you ask me.
Kacie B. gets the group date rose, which isn't too much of a shocker and, for once, Courtney is worried.  Ben has his date with Patty, which is really too brutal to get into.  Suffice it to say that she wears a one shoulder dress too and has a total breakdown when he sends her home mid-date.
Afterward, Ben goes back to his hotel room and Courtney — who is obviously HAMMERED — sneaks over in just a robe and underwear and convinces him fairly easily to go skinny dipping, full monty.  She literally tells him, "I'm about to rock your world."  I'm starting to think she's mostly insane because she's drunk all the time.
The scene is pretty racy as far as I'm concerned because they're clearly buck naked and making out in the water.  We speculated about whether they had sex, but we think probably it was just heavy petting.  But who knows?  Courtney knows!
Anyway, at the cocktail party, PhD Emily apologizes to Ben for trash talking about Courtney the week before … and then proceeds to do it again.  Don't get me wrong: This strikes me as unwatchably awkward.  I want to scream "No!  Don't do it!" like I'm watching a horror movie.  But Ben's response is a HUGE turn off.  He is incredibly condescending, speaking to her as if he were disciplining a child.  "What I encourage you to do … blah blah blah."  Between this and the totally harsh way he dismissed simple Samantha last week, I'm starting to think maybe he's not such a nice guy.  Maybe he and Courtney deserve each other?
And then there's the rose ceremony and redhead Jennifer goes home, I'm guessing because she's got the friend vibe.  I guess the best kisser in the house paled in comparison to the best ocean hand job giver (that's Courtney).  But now is when it gets good because he's mostly got girls left who have at least SOME shot.
See you next week, when Courtney does something else insane!
xo – N.