The above left is a picture taken by my sister-in-law K. at my first ever book event this past week (along with a pic of the beautiful Georgetown Cupcakes — fitting because my hubby Drewser is from DC — on hand next to stacks of MY BOOKS)!  And that's just the beginning of what's been up, as I've gotten closer and closer to the book actually launching on July 3rd!
As you guys know, I've never done this whole novel thing before: So far, I know that it takes quite a while and that it's a lot of hard work.  Now, I am just so grateful and excited to reap the benefits of all that effort (on my part and on the part of my agent and editor etc.)!
First of all, the SEMI-CHARMED LIFE reading, signing & shopping fest (at boutique 143 Ludlow owned by Sophomore designer Chrissie Miller, who I've known since my curfew was 11:30pm) was incredibly fun, at least for me.  It was organized in part by Gilt City, who not only created the below beautiful online invitation (which is blurry because I am a technologically challenged, which is code for "a dinosaur"), but also were incredible on the day of the event: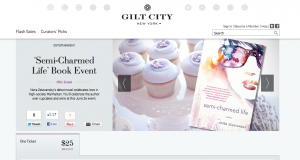 Anyway, I wore this Aryn K. dress that fits like a glove with a new Rag & Bone belt I got for not so much at their recent sample sale (which has changed my wardrobe, but that is really not the point of this post).  The people who attended the book event were beyond lovely, the reading seemed to go smoothly and the signing was probably my favorite part because I got to meet all these interesting and interested people.  And then about 70 of them walked away with my book, taking it out into the world for the first time for the public to actually read.  And that made everything feel amazingly real.
The wine at the party, donated by Suncé out of Sonoma County's bucolic Russian River area, was not only really good, but they actually surprised me by putting the cover of the book ON the actual bottle labels.  I mean, how amazing is that?  It's the little things.  And the big thing too (at least when it comes to presents).  I mean you, Drewser!  Aveda, Liz Earle and Stila donated beauty products for the gift bags and that included Stila's soon to be discontinued (sad!) "Purple Tang" eyeliner that is featured in SEMI-CHARMED LIFE as a prop for marking the main character Beatrice's way home.
ANYWAY, that was my only preview event.  The book comes out on July 3rd and since that's a holiday weekend/week (when people will hopefully grab the book as a beach read!), the readings start on July 9th.  I'm traveling all over the country, so definitely do check the "Events" tab on my website for all the info!  Also, join my Facebook Author Page for updates of all kinds on readings, reviews and general book happenings!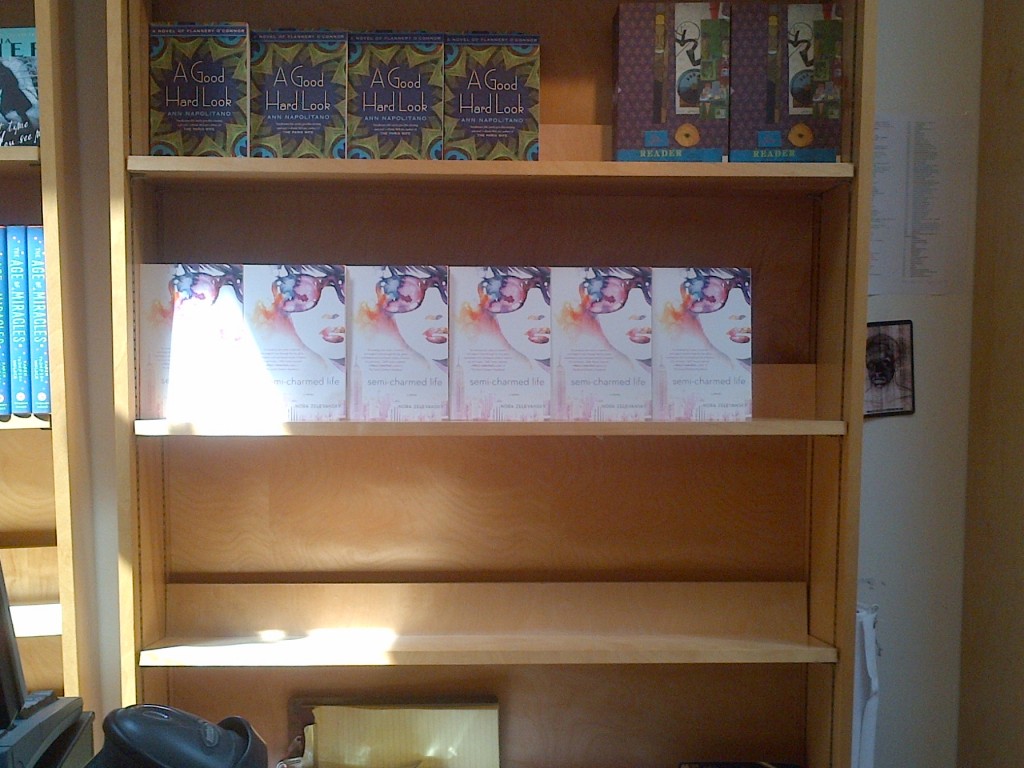 So, here I am waiting for the book to show up on July 3rd, when I was surprised to discover my book ALREADY ON SHELVES!!!!!!! at Book Court in Cobble Hill, when I stopped in.  I actually surprised myself, as I literally almost starting crying right there in the store.  (I held it together because I didn't want to scare the nice staff there.)  I snapped some photos (including the above) and then wandered home impervious to the heat, listening to music on my iPod and feeling … I don't know … proud of myself.  And that's a weirdly rare feeling, no?  Too rare, if you ask me.
Anyway, I will stop blathering on now!  More to come, when there's … well, more to come!
xo – N.