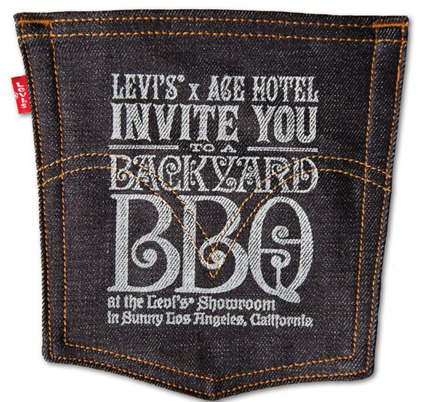 Sometimes you don't realize you need a makeover until you get one.
Yesterday, I got my hair chopped at new cool kid Artlab on Montana.  Martin, my amazing stylist there, did such a perfect job!  Who knew I looked like a drowned rat before?  Not me, until he chopped off some inches and I suddenly looked awake.  But he was kind enough to tell me I looked fourteen, even before the makeover.  And, all evidence to the contrary, I've chosen to believe him.  So we love him.  Got it?
Then, in the evening I headed–with my new shorter locks–to Levi's' new showroom for an Ace Hotel co-sponsored party launching the denim line's new sweet V.I.P. destination and announcing some special Levi's suites being unveiled at Ace Hotels around the country.  R & I inhaled yummy BBQ and tequila and Prosecco cocktails and, best of all, discovered the most amazing boyfriend jeans EVER.
I've tried bf jeans before and I sort of thought they were unflattering and carrot shaped.  But DUDE.  I came home and threw these mofos on and now I'm just living in fear of the trend ending because I NEVER want to take them off.  Leave it to Levi's to take some awesome classic 501s and make them the best boyfriend jeans ever.
I walked out of the bedroom in them and Andre said, "Are those my jeans?"  I kid you not.
Between my bf jeans and new haircut, I'm like a new woman.  Now if I could just get around to that stupid mani/pedi.  Some day . . .
xo – N.