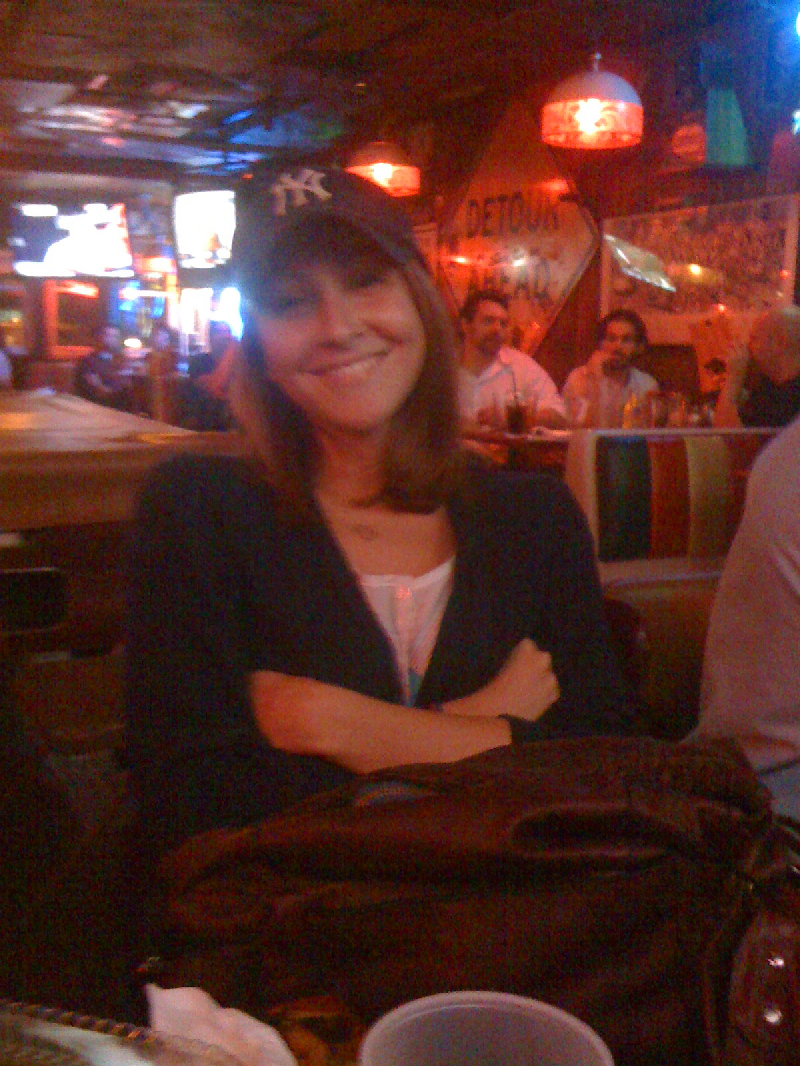 [Me At Barney's–Photo compliments of M.]
As M. says, "LA has a shortage of great sports bars."
She's REALLY into sports.  Right, M?
Wait.  Is watching The Hills a sport?
Either way, that POV proved to be somewhat true, when we tried to find the right spot to watch what we believed might be the last World Series game of the year.  So, we went with an old standard, which proved to be just a perfect as always: Barney's Beanery.
Some people think of BB as a famous old school musician hang out and, I confess, I did once spot Slash bellied up to the bar complete with top hat.  But I think of Barney's Beanery as more of a sports destination.
Most of the guys and gals in our gang are Yankee fans and, whether you hate the team
or not, they (and I) come by it honestly, being either from the area or with
roots there.  So we found a long table for our group of ten or whatever and hunkered down for the long haul from Mary J.'s opening to the joyful conclusion.
Of course, like any sane person, I mostly watch sports for the accompanying food.  Barney's Beanery lives up to expectations in that department too.  I have NEVER eaten so much happy ass fried food: flavored french fries, buffalo chicken fingers, fried pickle chips, mozzarella sticks and jalapeño poppers.  And, my personal reason for darkening those BB doors, they make a pickle stuffed burger (THANK YOU!) and serve a side salad with croutons and that yummy bad for you tangy, yellow Italian dressing.  Oh and BEER, BEER, BEER.
So, thank you BB for yet another pleasant viewing experience.  I'll see you next time.  Save me some room in the deep fryer.
xo – N.