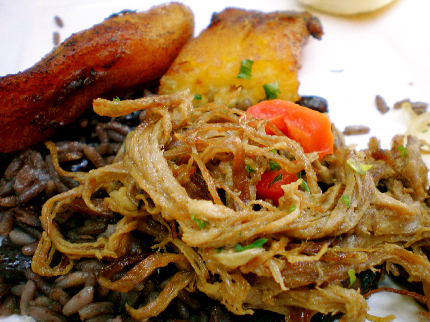 (Yummy Cuban Food . . . I'm hungry all over again)
Before you get the wrong idea and start showering lavish gifts on me (although presents are really always welcome), this past weekend I flew to Miami to celebrate my sister Claudia's bday with our friend B.  I won't even get into how annoying it is to fly, but let's just say we'd all love to hop on a plane with NO mechanical problems for once, though I appreciate the pilot catching them BEFORE takeoff. 
Anyway, just wanted to give you the rundown on our "Best" finds, while in the balmy land of pastels, palm trees and roller skating cross-dressers (at least in The Bird Cage):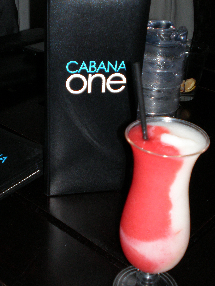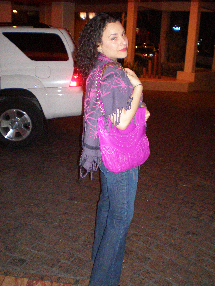 (My Miami Vice Cocktail–yup–and Claudette with her new hot Zac Posen bday bag and Adina studs–told you I love them–waiting post-martini for a taxi to Area 31)
So, we stayed twenty minutes from South Beach in cute little residential Coconut Grove (which, despite initial appearances, is more than one big mall).  And we bunked at the Mayfair Hotel & Spa, where we also sipped cocktails the first night on the new Cabana One roof deck (which I guess is sort of like a South Beach experience sans the trek cause there were crazy lines to get in on Friday night).  To quote B., it definitely offers the "Oowah! Oowah!" cheesy Miami club experience that any self-respecting kitsch lover craves, if only for a moment.
In my book, their Miami Vice cocktail is a must (and not just so you can casually sigh, "I'll have a Miami Vice" cause actually that makes you feel like a loser, despite the initial amusement).  The drink is half strawberry daiquiri and half pina colada, which really nips that tropical craving in the bud.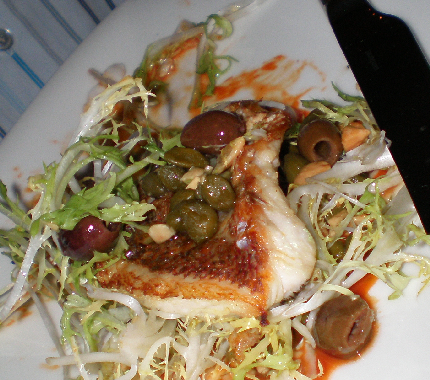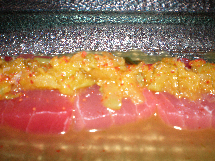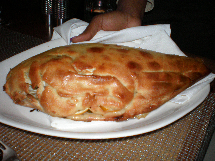 (Area 31's Red Snapper, Tuna Crudo and Salt-Crusted Dorade–OMG–I AM SO HUNGRY)
Next we hauled ass to new nouveau seafood spot Area 31 (not to be confused with Area 51–as there were no visible little green men, just a few orange tanorexics), where we sampled many delicious treats from the above Tuna Crudo, beautiful Salt-Crusted Dorade (not for the salt shy) and a Gnocchi with Tuna Bolognese to, my personal holy grail, FRIED CAPER BERRIES.  Thank you, Lord. There are no pictures because, well, I scarfed them all STAT.  And you know what?  I don't even feel bad. Use your damn imagination.  Sorry.
ANYWAY, the restaurant is way up in Downtown's new Epic Hotel, which has an epic lobby too.  Very dramatic, but not as dramatic as the panoramic views from the restaurant's windows.  Pretty damn cool.  I think the aliens may want to reconsider their Area number.  Just saying. (Also, as I understand it, Brickell and Downtown in general used to be funky, but are now really up-and-coming . . .)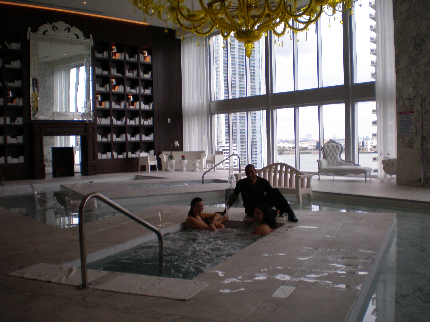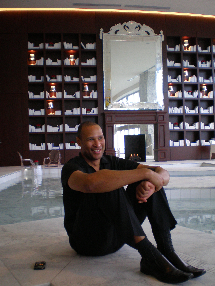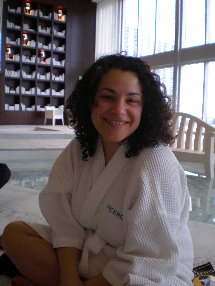 (The Viceroy Spa's Main Area, Patrick Huey, Spa Director and My Sis, Looking Kinda Like a Blissed Out Soap Ad, No?)
The next morning, still stuffed and bit hungover, I met Claud and B. at this cute bookstore next door to the hotel, The Bookstore In The Grove, where they had decent bagels (yay salt bagel!) and some good looking empanadas.  I missed breakfast cause I was on Cali time and, frankly, I like to sleep, but they raved about a little local breakfast joint called Green Street Cafe.  Grits and all. Kiss my grits. Whatever.  I was bummed to have missed it, BUT . . .
Off we went to the brand new Philippe Starck-designed spa (above) at the new Kelly Wearstler-designed Viceroy Icon Brickell Hotel (which hasn't even opened yet) for treatments and a visit with our dear friend, Spa Director Patrick Huey.  While initially the HUGE pillars of muted tribal faces felt a little creepy and bulbous, when we made our way up to the actual spa, we were floored: the main plunge pool area looks as if Henry VII's royal court morphed with Woody Allen's Sleeper.  With floor to ceiling windows several stories high overlooking the water, the space feels extravagant and exposed and dipping toes in the plunges feels deliciously illegal like stripping down and bathing in a museum fountain.  Of course, Starck sits furniture in the water (a la The Delano), which must be his Miami thang.
We were moved to surrender completely, as we sipped champagne from flutes, drank antioxidant pomegranate acai shots and draped ourselves across chaises.  The treatments were amazing (totally above par and I get rub-downs and facials on the regular).  The whole day, including a truly delish lunch, was more than a spa visit; it was like an experience into itself.  I could gush about it forever, but I'll stop now. Really.  Let's just say, we were happy like Claud's face above.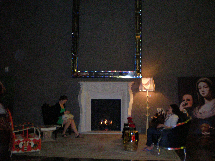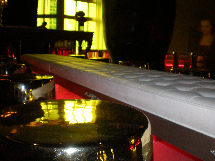 (The downstairs waiting area at the Viceroy Residences, where the spa is located)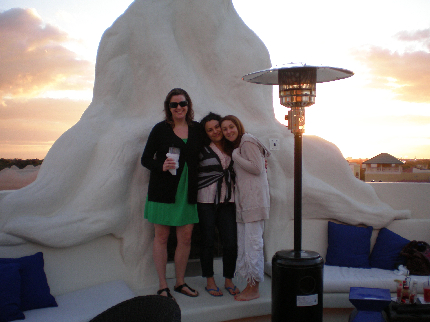 (B., C, & I Went Back to Cabana One at Sundown)
Next we headed back to the hotel and up to Cabana One for more Miami Vice, pool snacks and a view of the sunset.  Fire place adjacent.  Okay, I AM STARVING.  Seriously, I need to stop blogging and eat dinner. Sigh.  Soon enough. A bloggers work is never done.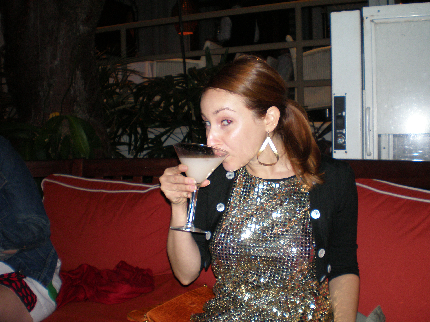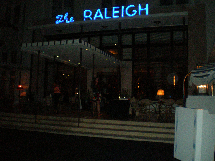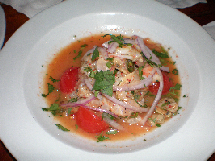 That evening, despite being completely exhausted from absolutely nothing, we went to grab drinks at The Raleigh Hotel (an Andre Balazs property like LA's Chateau Marmount and NYC's The Mercer) in South Beach.  Gotta hit Collins Ave. at least once, right?
It was Saturday night, so we were a bit scared of potentially cheesy crowds, but Patrick suggested The Raleigh because the martinis are great and the scene is more mellow than, say, The Delano (and I guess we'd already done some Philippe Starck).  Well, he was right on both counts.  Lounging out back and pool-side at The Raleigh was a LOVELY martini, black ceviche, french fry, Art Deco and lantern-laden treat.  We LOVED every civilized moment and ended up sipping Lychee and Tropical Ginger cocktails until late . . . or at least P. and I did.  The usual Belvedere with a twist for C. & B.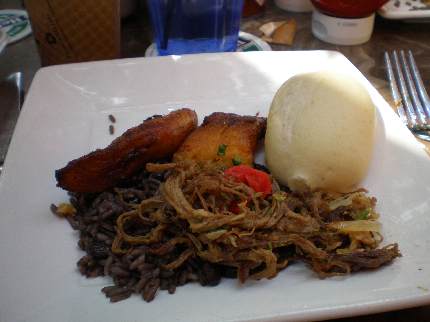 (Vaca Frita from Las Culebrinas in Coconut Grove)
On our last morning, Claud and I demanded some authentic Cuban/Latin food and ended up grabbing chow at Las Culebrinas.  Actually, not to confuse the story, but we got all mixed up and ended up next door at Berries (a lovely outdoor breakfast spot).  And because it was nice out and the management was kind, they let us order food at Berries and also bring over some to-go Vaca Frita (grilled shredded beef with onions, mixed rice, beans and plantains).  Culebrinas seems like more of a dinner spot, but the food was amazing.  OKAY.  THAT'S IT.  I'M STARVING.
Anyway, Miami was fantastic and exactly as it should have been.  I'm still hungover and I think I gained 5lbs, but it was beyond worth it.  Gonna have to head back really soon and investigate The Design District, as I always seem to miss it despite "The Best" intentions.
In the meantime, Oowah! OOwah!!!  Miami Vice-style.
xo – N.