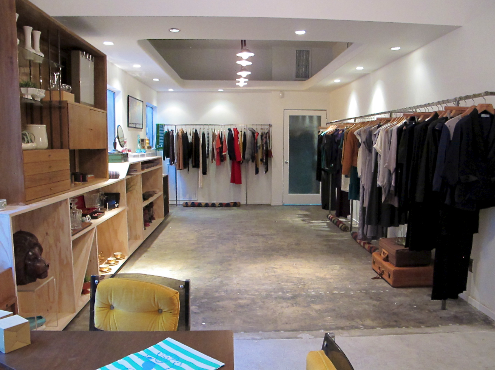 Well, the rumors are true.  Oh.  Wait.  You haven't heard buzz in the press about my move to NYC?  (And by "press" I mean on my Facebook page.)
The Drewser & I are headed back to the east coast, where an NYC apartment already awaits.
In the meantime, it's been fashion and beauty central online for me, hitting events and launches all over the place.
Also, I'm not sure if I've even mentioned this on PL before, but I have a novel coming out in the spring!  It's a very big deal for me, so I can't even pretend to be cool about it.  The book is called "SEMI-CHARMED LIFE" and I'm sure you'll be hearing more about that from me in the coming months.
That's monopolized a lot of fun time too (in a great way), along with my good old "Fit Like Us" self.com blog (which, considering my lack of exercise lately, should really be called "Fit Like Anyone Else").
Anyway — a few highlights from the last few eons for your reading pleasure (one hopes):
Geren Ford's new multi-purpose space with boutique The Annex, showroom and event area opened this weekend (pictured above).  elle.com
Warren Tricomi Salon's west coast partner Kaz Amor just launched a new haircare line (mostly au natural) called VoCe.  It's all about the Surf Mist. elle.com
Beckley Boutique (on LA's Melrose) owner Melissa Akkaway launches her inaugural clothing line, Beckley By Melissa.  elle.com
Veuve Clicquot & Rachel Zoe got together for some polo and some charity fundraising at Will Rogers State Park in the Pacific Palisades. Style.com
Dior Launches Scented Nail Polish (like roses!) and a whole new "Garden Party" cosmetic color palette during a luncheon at The Chateau. Style.com
Beauty happenings in LA: Natura Bisse teamed up with The Beverly Wilshire for a spa dinner fit for The Hunger Games' Capital; The Nail Bar opens at The Beverly Wilshire & Rossano Ferretti opens in Beverly Hills. Style.com
Vosges Chocolate lands in Beverly Hills with some exotic takes on chocolate from curried versions to vegan. Daily Candy
Whetherly t-shirt company launches with an ideal cut and color from a sports wear expert.  Daily Candy
That's all for now.
xo – N.