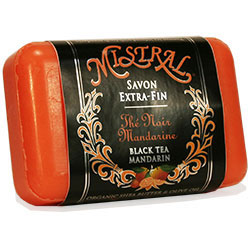 I was perusing Mistral's site for a few reasons:
1) My sister informed me that this week's discounted featured French-milled bar soap is Wild Blackberry (which, if you haven't ever used before, is actually INSANE).  Seriously, it's like the best thing you've ever smelled.
2) As you know, if you've read The Pocket Lint before, I'm OBSESSED.  They actually make their soap in San Diego, but the scents are concocted in Grasse (yup, the South of France) like so many upscale perfumes.  And the creams specifically are amazing, especially for people with dry or sensitive skin.
3) The site always has great sale items, so I like to regularly check and see if my favorite Green Fig Hand Cream (in a tube) or Gardenia Bath & Shower Gel have made the "I feel slightly less guilty buying this" list.
Anyway, I happened upon this new flavor of soap, Black Tea Mandarin, which looks just unmissable.  First of all, black tea is meant to have healing properties (not the least of which is that it turns sunburns to tans–key for summer).  Maybe that's because it dyes the skin.  Or maybe that's an old wives tale, but I once read an Archie comic where Betty soaked in a tub full of black tea bags and it totally worked for her.  She came out golden.
What's good enough for Betty is good enough for moi.  I think she even won Archie's love that time. Sigh.
xo – N.