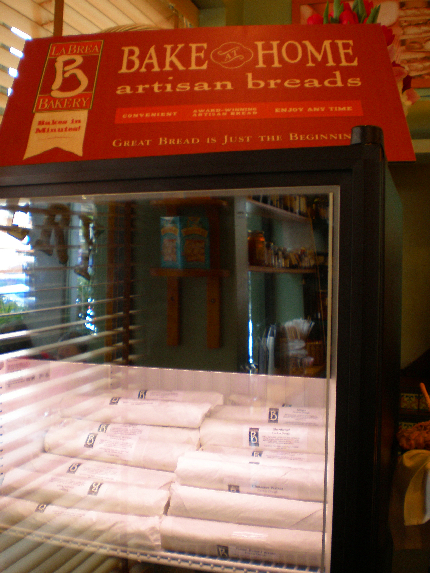 (The Cookie Dough Fridge at La Brea Bakery)
In 1988, when chef Nancy Silverton learned the craft
of artisan bread-making
in anticipation of opening LA's
Campanile
(still a beloved standard, especially on Thursdays' Grilled Cheese Nights) and the adjoining
La Brea Bakery
, she probably had no idea that her bread would become a local staple.  (She also probably didn't predict that she'd eventually open
Mozza
,a pizza spot/osteria and one of LA's most competitive reservations–with the best brussel sprouts BTW).  At this point, La Brea Bakery loaves can even be found at high-end supermarkets.
La Brea Bakery remains a destination, though, for delicious breads, sandwiches, pastries and the like.
My father
, for one, is a total devotee and every time we stop in he tries to cajole me into ordering a ginger cookie or a *canele, so that he can guiltlessly eat dessert too.  I'm more of a sucker for the pretzel rolls (as a salt addict and all), but this time around I noticed a fridge filled with cookie dough. Apparently, like some of the loaves of bread, these "Bake Home" cookies are about 80% cooked and then wrapped up, so you can take them home, pop them in the oven and have perfect La Brea Bakery quality cookies ten minutes later.
Now that's
a baking endeavor
that even Andrew and I can competently complete.  Hopefully.
xo – N.
*If you haven't ever had a canele, they're sweet eggy French pastries.  I guess, since they're not too sweet and have a great chewy consistency, they're sort of like a more dense dessert version of a popover.  And for all you popover fans out there, who haven't found a good one in LA, check out the restaurant in the basement of
Neiman Marcus
in Beverly Hills.  Popover central.