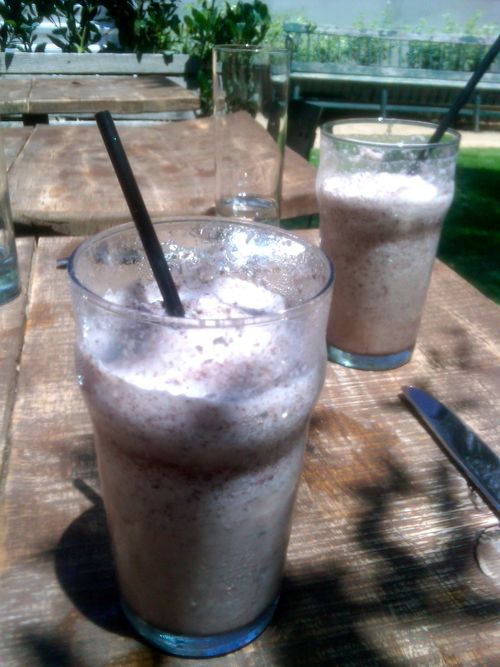 As many of you may know, if you've hung out with me in the last six months, I've developed a somewhat bank account draining obsession with the smoothies from Earth Bar.  It's basically a high-end health food/vitamin store with hemp and almond milk smoothies that rock my world — the people are lovely, the smoothies are delicious and you get to feel virtuous cause it's all healthy and makes you pretty and stuff.  What more could you want?
There are other Earth Bar locations in Equinox gyms around the city, but the one I frequent is the only standalone location: If you find yourself in the neighborhood of Kings Road & Santa Monica, try the Radiant Skin, Amazon Immunity or the quinoa cereal with coconut — SO GOOD!  It's also sort of a secret celeb spot randomly.  Partially, I think I just love it because creamy milkshakes and smoothies have been a no-no for me, since I realized I was lactard.  Now I can actually eat them again thanks to almond and hemp milk!  Thank goodness for weirdo health food trends.
ANYWAY … after a Franklin Canyon hike this weekend with Andre and our friend A.L., she and I couldn't think of anything else but having one of those smoothies.  That's when she informed me that new(ish) nearby restaurant Eveleigh had hired a smoothie chef previously from Earth Bar to work during brunch.
This is a little embarrassing to admit, but Andre and I had dinner the night before with M. & P. at the same place.  The outdoor setting is great — all pretty, minimal/casual and outdoors.  I had a delicious Pisco Punch cocktail and we shared a salumi plate with fried bread and hot olives with haloumi (shut up!).
So, we decided to go for brunch too.  And I was more than glad that we did because I got to sample their Cacao Nut Date smoothie with young coconut meat, coconut water, sweet cacao nibs, cinnamon, vanilla stevia and vanilla hemp milk (above).  HOLY SHITE.  It's all I can think about now.  It's a bit grainy in kind of a yummy textured way and the cinnamon takes it over the top.  Damn.  I want one now.
A.L. said it reminded her of a healthier Frozen Hot Chocolate from Serendipity in NYC, which is HIGH PRAISE in my book.
Anyway, I wanted to cry and throw a tantrum when a server took my smoothie away with a sip left.  But I held it together.  Cause that's just how I roll.  I'm quite mature.  Also, I live close by.
xo – N.