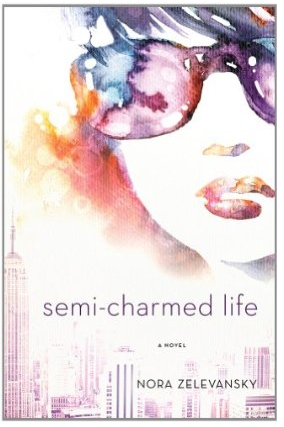 This is very exciting for me.  This isn't just some regular old shamless self-promotion.  This is my book … on Amazon and Barnes & Nobles!  And the cover above!  SEMI-CHARMED LIFE actually doesn't come out until this summer when I'll be doing all sorts of readings and such (July!), but it's available for pre-order as of last week.
Also, I learned via a Google Alert yesterday that it's up on Good Reads too!  I have no clue at all how that happens, which is the case for me with most of what goes on in publishing, but I'm totally pysched.  This might seem silly, all these small details, but each public announcement or step makes the whole thing seem a little more real.
Anywaaaay, what else is happening?
Well, during my first month back in NYC (Park Slope to be exact), I've discovered a new ingenius sushi roll invention: The Tempura Sweet Potato Roll.  Yup.  It's become a regular thing for me.  Well, as regular as something can be after 28 days.  Or, actually, more like 21.  Time flies when you're  … unpacking boxes.  Whatever.  The roll is amazing.  What else can I say?
Also, I went without TV for four weeks and then wrote a story about it called "In Defense of The Boob Tube" for Huffington Post's new HuffPost TV section.  If you love TV like I do (and you all know I do), then I think you'll be nodding along with this one.
Some other highlights over the last few weeks?  An interview with my favorite pair of designer sisters from ELKIN on elle.com and a write-up of new antioxidant-rich line of beauty products, Radical Skincare, for Vital Juice.
Otherwise, I've mostly been on the road and all that implies (a.k.a. slightly broken out skin and a few extra fast food pounds).  Oh, and also the freedom of the open road.  That too.
Happy happy holidays to you all!  May the New Year bring you happiness, health, money and YES! a new season of THE BACHELOR.  It's baaaaaaaaack.
xo – N.