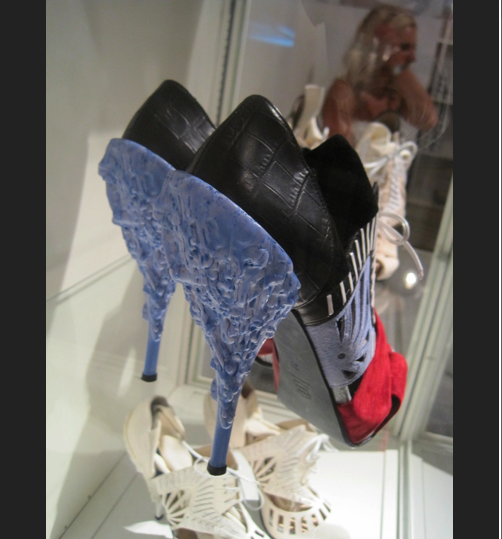 Monday, Monday, yawn, yawn.
Soooo … when I covered Mona Moore's Rodarte shoe party last week for elle.com, the post focused mostly on the spring collection and the fête itself, which is definitely worth checking out!

In addition to the Hawaiian cocktails and condor-inspired shoes, which you can read about at the above link, guests also got an up close and personal gander at fall's crazy collection.  And the lucky ones (yes, me & R.) got to chat for a while with kooky, cool Rodarte designer Laura Mulleavy, who reminds me more of the visual artists that pervaded my art world childhood than of any designer I've ever come across.  (Her sister and co-designer Kate seemed really lovely too, but I didn't get to corner her for quite as long.)
Laura talked about The Dark Crystal: She's obsessed with the Jim Henson cult-classic movie.  (Coincidentally, for some reason, people think I look like the main female "Gelfling," Kira.)  Laura also dished about what it's like working and living with your sister, saying that they're "basically the same person."  (They went to Berkley together and now live together.)  She also told us all about the inspiration for the fall heels and about the Rodarte approach to design:
Basically, though
known for their avant-garde aesthetic, the designers themselves kept it casual
and unassuming, showing their Northern California and Pasadena roots in comfy
plaid and tees.  Though Laura did
rock their Repetto collaboration marbled ballet flats (love!), she shook her head "No
way!" in response to wearing her own designs, explaining:  "We don't design for a specific girl or
for ourselves, which is unusual, but it means there are no limitations."
Those that
truly worship at the altar of divine shoes were transfixed by fall's upcoming
Kirkwood collaborations, displayed behind protective glass at the Mona Moore's
rear.  The shoes are inspired by "sleepwalking"
and have heels that mimic melting candle wax and light up (see above and below).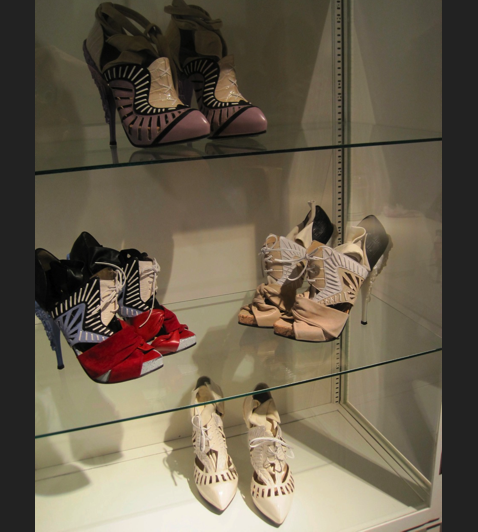 When it comes to Rodarte's heels, if the shoes fits, put it behind glass and stare at it, because these are simply works of art.
xo – N.