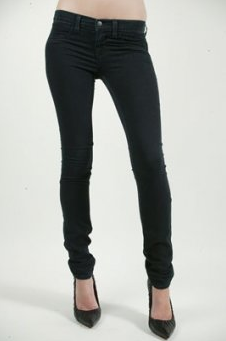 You all know, from that recent ELLE article, that I've got a soft spot for all things J Brand.  Well, I have a soft spot for awesome denim leggings and LA shop Diavolina too (usually for shoes).
Is it me or is "soft spots" starting to sound weird?  I'm like starting to envision baby's heads or something.  Creepy. Whatever.
Anyway, all my favorite "soft spots" come together, as Diavolina has the exclusive on J Brand's new Mulberry, Charcoal and Navy Denim Leggings.  Don't worry non-LA LINTERS, you'll also be able to buy the leggings online at ShopDiavolina.com.
Between these and some of the new Wolford tights, I think I'll have my legs covered for fall.  Punny punny girl.
So, bring on the falling leaves.  Or, in the case of LA, 70 degree weather.
xo – N.