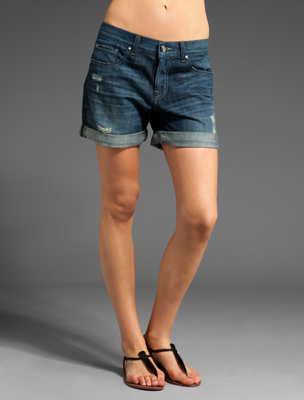 At this point, I think we can all agree that men and women are different.  But in addition to some obvious differences (men leave up the toilet seat, women leave their makeup in the sink–or maybe that's just me?), I've noticed that many men don't understand the concept of multiples (unless it applies to women–yeah you, Tiger Woods).
You boys wonder: Why would you need more than one purse?  More than one sandal?  More than one shade of lipstick?
Well, we just do, dammit.  And this summer I need one more pair of jean shorts.  See, I have a very light blue, almost white, pair that I cut myself that are short and fraying at the seams.  I have a high-waisted more styley version.  Now I need these comfy Level 99 Boyfriend shorts that I will literally wear everyday this summer.  How perfect and cozy do they look???
Just wanted to introduce you to my summer uniform.  Pleasure, pleasure.
xo – N.