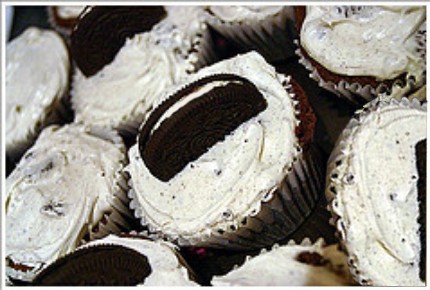 Now, I know what you're thinking: "Vegan, huh?  Tell me again about bacon cupcakes?"  But, to any lactard worth her salt, tasty baked goods (sans stomach ache-causing dairy) are precious.  The truth is that I basically hated all things sweet and creamy until I found out that they were off limits.  Suddenly forbidden fruit (dairy!) became my favorite thing.
Anyway, luckily, I have had the distinct pleasure of sampling fresh homemade cupcakes, cakes and cookies galore from Veganville.  The Sugar & Spice Pumpkin Loaf, Ho-Ho Cupcakes (a.k.a. Oreo) and the Mint Chocolate Chipper cookies are delish–and that's just what I've sampled.  Also, they're like crazy inexpensive and so cute as a little gift, wrapped by hand by baking obsessed owner Gigi Anber.
Seriously.  The Mint Chocolate cookies put girl scouts to shame.  Now offense, Troop B.H.
xo – N.