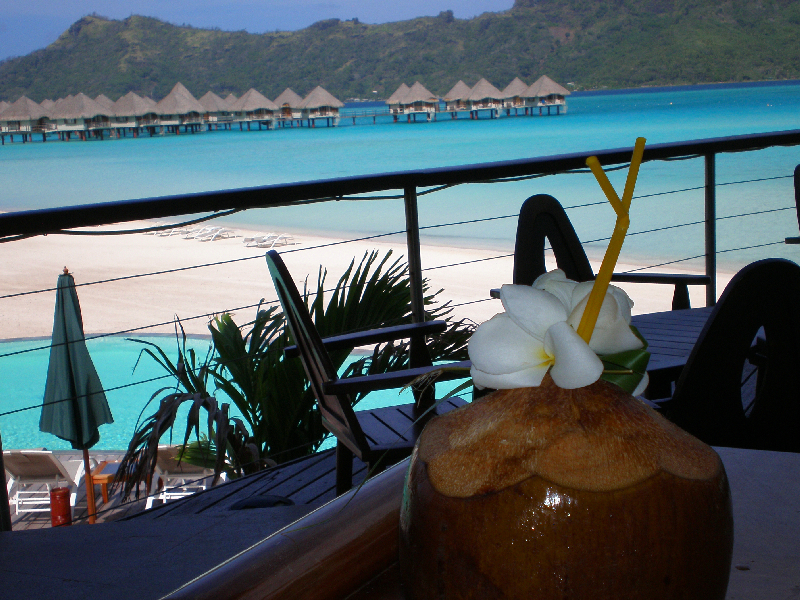 In case you all haven't already wasted precious hours of your life watching Couples Retreat, while inhaling an enormous container of popcorn (because it's only .75 cents more than the small!), take a gander at Bora Bora.
You know how the water in a Caribbean spot always looks turquoise from above in the plane?  Well, in Bora Bora the water is just that color, even up close.  For those craving some serious nightlife, this destination will not do.  But, if what you want is to loll by the ocean and sip tropical cocktails, you're in the right place.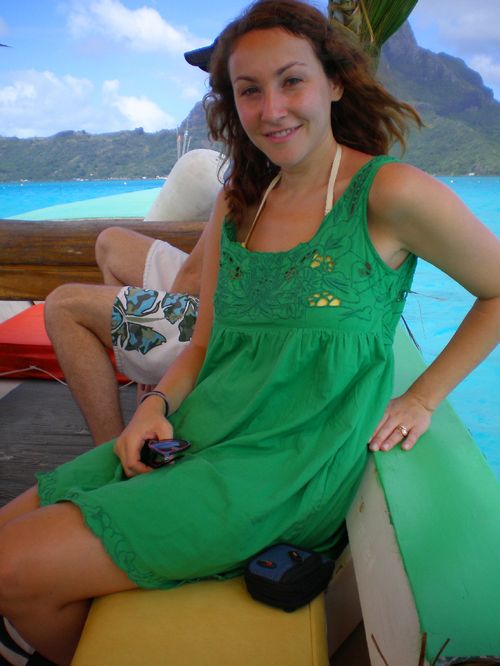 [CLICK TO ENLARGE IMAGES: On The Boat En Route To Shark and Stingray Swimming]
I mean, look at these colors!!  It's crazy.
Anyway, I stayed at Le Meridien Bora Bora and here were just a few of my favorite things about the experience (since I'll later be boring you with links to actual stories published elsewhere about the destination).  I've never been very good at narrowing down, but here goes: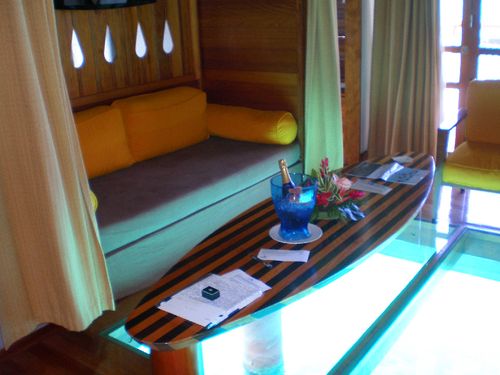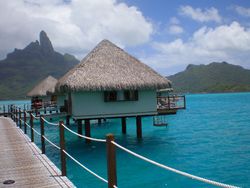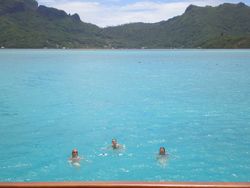 [CLICK TO ENLARGE IMAGES: Over Water Bungalow Interior, Exterior and Swimming Just Off One]
First, my over water bungalow.  Yeah, I said "my" like I owned it.  I wanted to move in!  I mean, how amazing is it to ogle fish from below your livingroom floor?  My particular bungalow happened to jut out far into the water, so I really felt like I was in this magical place, under the shadow of that beautiful mountain and with water rippling all around.  A.MAZ.ING.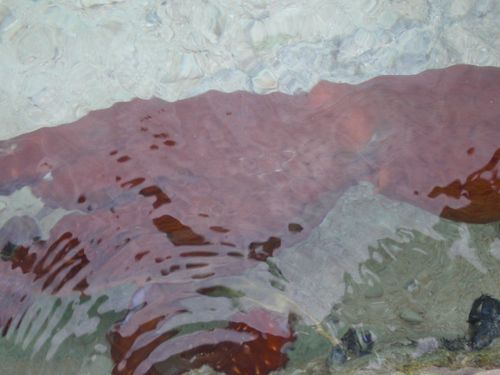 [CLICK IMAGE TO ENLARGE: Octo-mom-pus!!!!]
Le Meridien has this awesome turtle sanctuary, where they breed endangered sea turtles and you can swim and snorkel with them.  And, despite many a cool turtle and fishy, the bestest thing we saw was the above octopus.  I mean, how cool???  And swimming in the same water as you!
Anyway, that's Bora Bora folks.  Tune in next time, on the mean streets on NYC.  That's right folks.  We're flying halfway across the world to the Big Apple, where the octopus is sushi and the temperature was 30 degrees.  FAHRENHEIT.
xo – N.