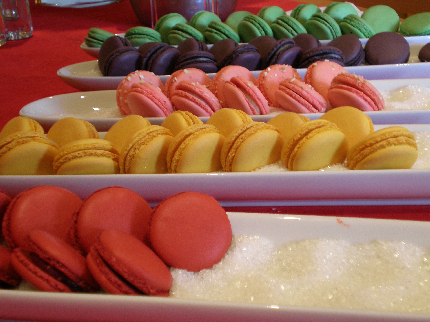 (Parisian "Macarons" from Paulette Beverly Hills at OMEGA on Rodeo Drive)
In LA this season, a V.I.P. event without Voss Water and Parisian "macarons" is like, well, a V.I.P. event last season without cupcakes and champagne (which I still insist is a sickeningly sweet combination BTW, as I blogged back-in-the-day for Variety's The Stylephile).  Anyway, point is, those colorful little almond-infused sweets are a must (even though the occasional lavender one borders on soapy).
So, with that in mind (and frankly because the colors were so pretty in the above pic from a Rodeo Drive OMEGA jewelry/watch press preview), below is a guide to my top LA destinations for Parisian macarons (***or "macaroons," as the case may be):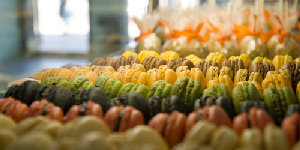 1. BOULE: I've already blogged about Boule's life-changing fleur de sel eclairs, which–in the first weeks after I discovered them–I would go buy under the pretense of "sharing them with friends" and then promptly eat them all myself.  Well, Boule makes pretty extraordinary macaroons too.  And, at their new La Cienega atelier, you can actually watch them create confections, while you nibble away at flavors like Rose Water, Pistachio and, yes, Sea Salt Caramel.  YUM.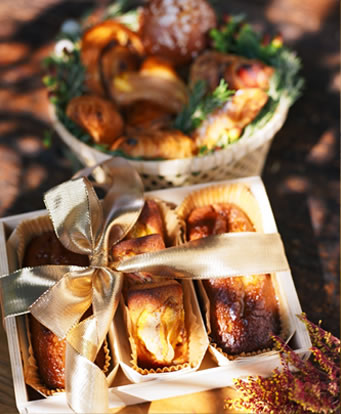 (Okay, so this isn't quite macaroons, but Little Next Door's Sweet Gouter basket above comes with macaroons)
2. LITTLE NEXT DOOR: This chic, pretty spot (the adjoining cafe to top LA eatery Little Door) is a lovely place to sit.  And, actually, the pastry chef was, at one point, the pastry chef at Boule, so . . . there you go.  With little art nouveau-style tables, a wine wall and authentically French waiters (or at least gifted LA actors), Little Next Door is a bit like being transported to Paris.  And, when in Paris, eat Parisian macaroons!  Mais oui.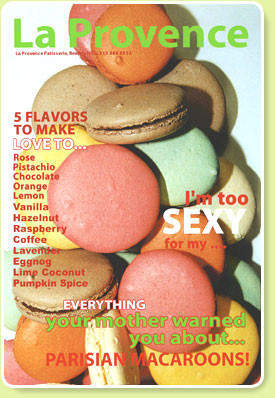 3. LA PROVENCE: One of those surprising LA mini-mall finds, La Provence Patisserie & Cafe has an old school family owned business vibe: warm and festive with feminine pastel-touched decor.  You just know that these macaroons were created with love, using someone's great grandmother's secret recipe (maybe not, but let me imagine).  Buttercream-filled flavors include Lemon with fresh squeezed curd and Coffee with espresso reduction.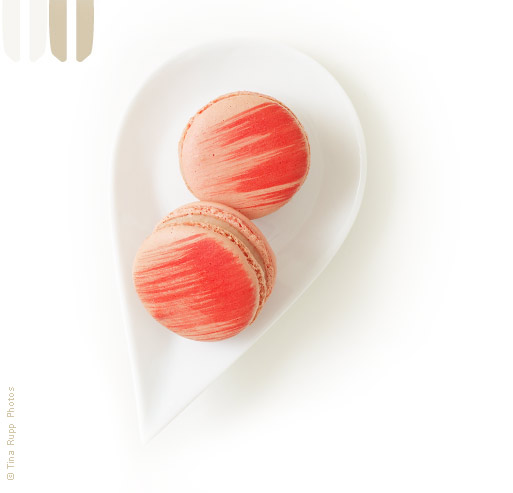 4. PAULETTE BEVERLY HILLS (pictured above): Paulette is known for the beautiful packaging that accompanies her "macarons."  And, thanks to this week's event, I can vouch for the vibrant colors, pretty sugar-filled dishes and, well, the slightly tart deliciousness of the Raspberry flavor.  Also, Paulette is dedicated almost entirely to macaroons, so that's certainly a vote of confidence.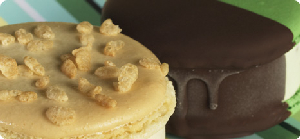 5.
MILK
: Okay, so at Milk, they do something a little bit different and I am
OBSESSED
: Parisian Macaroon Ice Cream Sandwiches.  Yup.  For reals.  And, for lactards like moi, there's even a Strawberry Sorbet one, which might sound super sweet, but it's actually tart.  If I wasn't milk-challenged, though, I would surely go for the Grasshopper with mint ice cream and a mint Parisian macaroon dipped in chocolate.
And, since this post was inspired by said Omega event, I'll just show off a little bling too (below):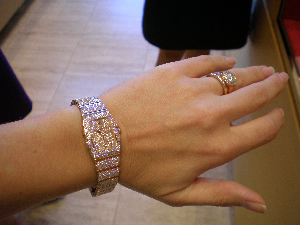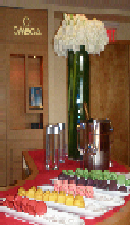 Like my rose gold and diamond watch?  It's just a

little

out of my price range, but it sure looks sparkly with my engagement ring:)  Maybe for our first anniversary.  Whaddya say, Andrew?
***I'm mostly going with the "macaroons" spelling, instead of "macarons," unless the above spots do otherwise.  I mean, I don't want to be one of those people who says "Buda PESHT" or suddenly rolls their "r"s dramatically when the word "burrito" comes up in a sentence, you know?  Just saying.