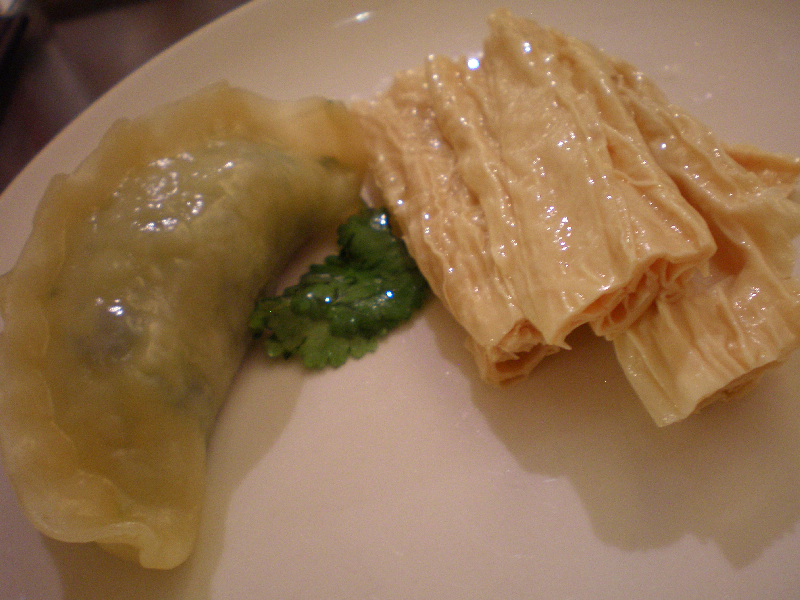 Sometimes (because I'm clearly under-stimulated), I think about what a terrible vegan I would make.
I'm just gonna say the "blasphemous," but true thing: I kind of hate Real Food Daily (probably because I almost always order the wrong things like brown rice sushi, which I actually think should be illegal).  No, seriously.  I'm gonna start a campaign like Mayor Bloomberg did with transfat and those people in New Jersey are doing to fight Brazilian waxing.  I'll totally lobby congress to make it illegal to use that mushy beige crappola (that actually taste like paper maché) within twenty feet of soy sauce and wasabi.  Then, I'm going to file a restraining order and, if brown rice won't stay away from the sushi counter, I'll shoot it with a rifle and yell, "Get off my property!"
ANYWAY . . . the point is that, while I would make a sort of violent vegan apparently, I accidentally eat that way often at my favorite neighborhood Chinese joint, Mandarette.  This isn't New York Chinese food.  I'll just say that straight out.  For hardcore sesame noodles and real egg rolls, you need to go down to Yang Chow in Chinatown.
BUT for good tasting, more refined Chinese chow, Mandarette is cozy and great.  Also, I always see Peter Bogdaoavich there.  Which is just weird.
Anyway, my favorite items there include the veggie dumplings served with vinegar and shredded fresh ginger (pictured above) and the bean curd sheets in sesame oil (also pictured above–off the "special menu" on the tabletop), which is served cold and is just subtle and tangy and delicious.  For main courses, I LOVE the Pepper Salt Tofu.  Literally, I think it's one of my favorite foods in the world.  Yup.  I said it.  The fried little breaded cubes are like warm pockets of heaven that burst in your mouth, offset by spicy and mild green and red peppers and lots of garlic.  I also absolutely adore the string beans, sauteed with a sort of pickled ginger situation.  SO GOOD.
I admit that I also kind of love their chicken dumplings and shrimp with asparagus in black bean sauce, but I could live without them.  At Mandarette, I could be a great vegan.
As long as they never served me brown rice.
xo – N.
P.S.  Okay, okay.  The juices at Real Food Daily are kind of good.  FINE.