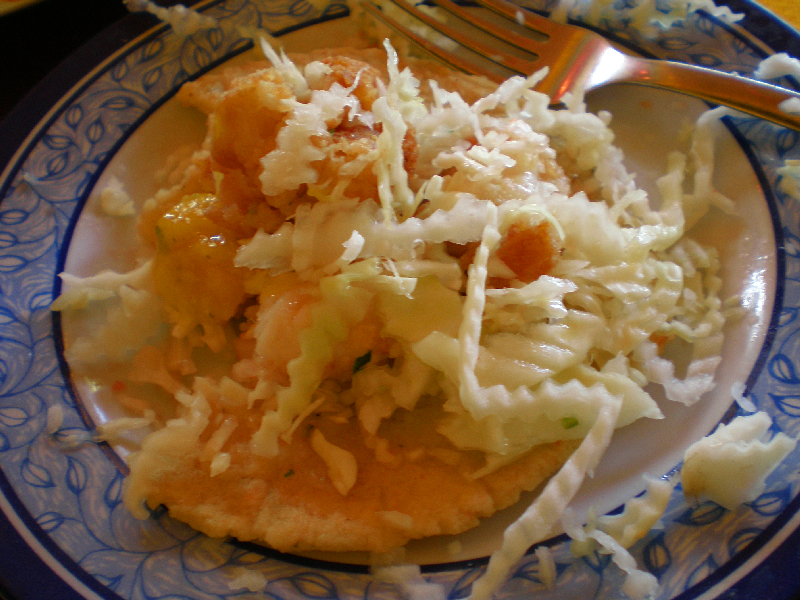 [CLICK IMAGE TO ENLARGE: Baja Shrimp Tacos From Sayulita Fish Tacos]
Not that I've ever been to Tamarindo (an expat yoga-happy enclave in Costa Rica), but I imagine that Sayulita is pretty similar.  If you haven't been to either, then that comparison really won't help you. At all.
Basically, Sayulita (which is about 45 minutes from Puerto Vallarta) is a fishing village, where a bunch of expats (largely from Canada and Santa Cruz for some reason) have taken up residence.  More importantly, though, Sayulita is where M. & P. got married a few weeks ago.
So, without further ado (ado, adieu, ado), here were the three places we ate at nonstop: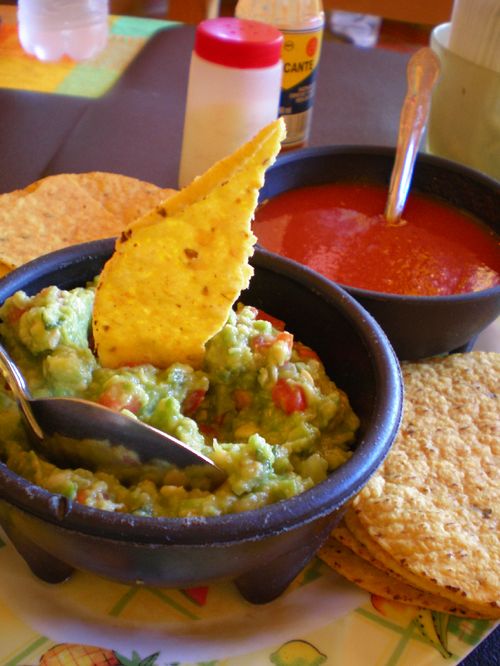 [CLICK IMAGE TO EXPAND: Guacamole]
First, at half-stand/half-restaurant Sayulita Fish Taco, I liked the Baja Shrimp and Baja Fish tacos best.  Of course, just my luck, those are the fried ones, but they aren't greasy at all.  The tacos come with cabbage, pico de gallo and this tangy spicy sort of creamy sauce that most people just love, but I was sort of not so into.  I learned this the hard way, but if you don't mind being high-maintenance and explicit about your wants, you can get them my way: with no pico and no creamy sauce, but with mango salsa, hot sauce and salt instead.  YUM.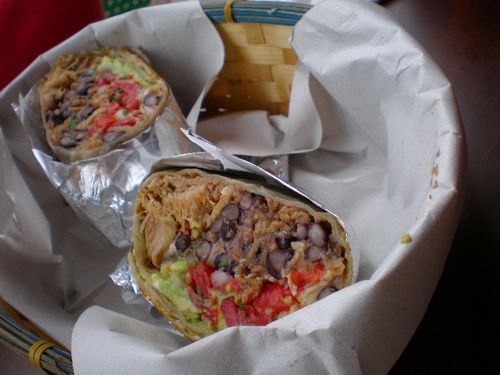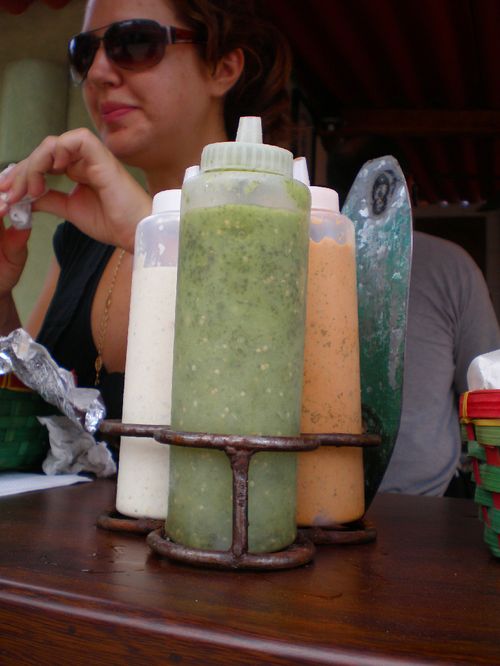 [CLICK IMAGES TO ENLARGE: Chicken Burrito, Sauces]
Burrito Revolution was also a hot ticket, although some people had iffy experiences with the fish versions.  I tasted both the chicken and carnitas and they were totally great: with a crispy tortilla and all things good.  Though everyone else loved the orange sauce best here too, I LOVED the garlicky verde situation above.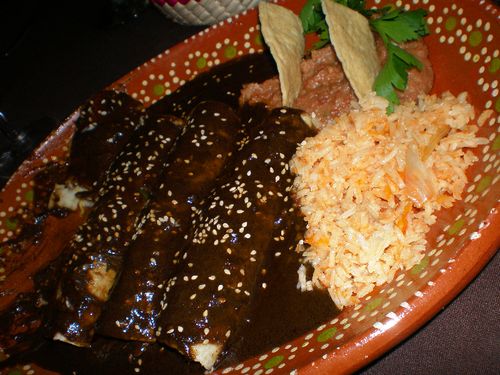 [CLICK IMAGE TO EXPAND: Mole Enchiladas]
Lastly (although we actually ate this on our first night in town), Sayuita Café's mole was actually kind of out of this world.  I'm not always a mole fan.  Sometimes it weird me out (and by "it weird me out" I mean "it weirds me out"–YUP, I have a cold and my brain isn't functioning), but this was just tangy and spicy and tasty and all things good.  They're actually famous for their Chile Relleno, which got good reviews from our group too.
Also, I think Andre loved the breakfast at Villa Amor (our hotel), but I don't do breakfast, so you'll have to take his word for it.
Ole.
xo – N.