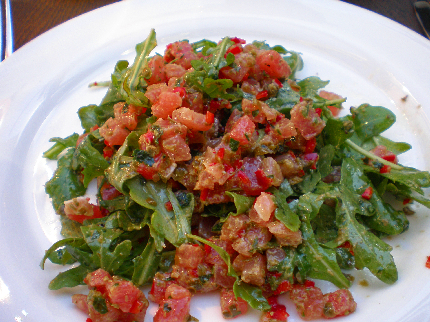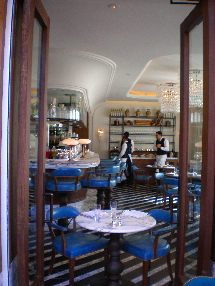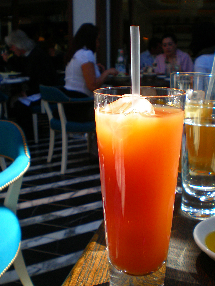 (Cecconi's Delish Ahi Tartar, Lovely Indoor Area and Refreshing Iced Tea Served Alfresco)
The Ivy, Orso, Spago
. . . any longtime LA-er can point you towards the city's sceniest power lunch scenes, where–often–a beloved patio table is most coveted.  No matter how notorious the scene, though, many restaurants have slowed to a relative crawl in light of the current economic sitch (blah, blah, blah–who wants to talk about that?)
Just trying to set the stage . . .
Picture it, Sicily, 1910.  No.  Cause I'm not Sophia on
Golden Girls
.  But do picture it, Robertson & Melrose, this past Thursday: I head into new Italian spot
Cecconi's
for lunch at a little past 1pm (yes, I have a lateness problem–SORRY).  First of all, it smells like fire place outside, which I love and this little stretch of Melrose is a lesser traveled section with many good restaurants and SoCal staple shops from comfy casual, but well-cut haven 
James Perse
 (can you tell I'm obsessed?) to his father's famed boutique, Maxfield.
Once inside, this new restaurant is crazy crowded; not in a bad way, but it's packed to say the least. And I'm seriously underdressed in a striped long-sleeved shirt, jeans and white converse, at least by comparison to the swanky crowd.  In a weird way, I guess my nearby neighborhood is just a bit more casual.  Maybe I should have seen that coming, but the more time I spend working at home in loungewear, the less I
ever
feel like putting on constricting nice clothes (that aren't James Perse).  Like Cher from
Clueless,
my party clothes are binding, you know?  Moving on.
Though I'd not heard a ton about the food itself, of course I'd read about the eatery's opening, so I wasn't surprised to see the pretty French blue chairs and chandeliers set against black and white tiling. Plus, as the restaurant originated in London and then found a home at NYC's Soho House, I knew to expect at least a high-end experience.  Luckily, my punctual lunch date had picked a spot on The Terrace.
My theory is that patios are so coveted in LA because, despite the year round beautiful weather, there aren't so many great outdoor dining spaces.  It's inexplicably odd, but true.  Anyway, this is a lovely one and no sooner had I taken a seat on the sun-slathered banquet, when they covered half the patio with their retractable roof to shield us from burning or heating up.  Very conscientious, I must say.
First of all, the restaurant is not too pricey, especially for the level of experience (a wise choice in this climate–blah blah blah–I know, who wants to talk about that?).  I ended up taking a risk and ordering the Ahi Tartar with Chili & Mint, which is occasionally good and sometimes–when the tuna isn't quite right, the tomatoes are overused and the seasoning is nil–can be a dire mistake. This version was delicious, tangy and flavorful–perhaps the best Tuna Tartar I've had almost ever.  And my companion's Carpaccio was equally tasty.  (Why when I say "companion" does it evoke my grandmother's nurses for me?  Whatever,
Driving MIss Daisy
.)
The iced tea, which was delish and (rumor-has-it) is sometimes offered in peach, has a thick, juice-like appearance, which the waiter explained is because it's french-pressed like coffee.  He said that means the herbs are potent, but–whatever it truly means–the iced tea is very refreshing.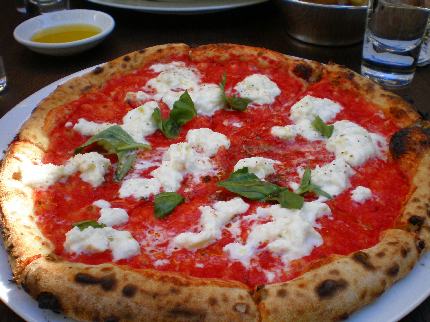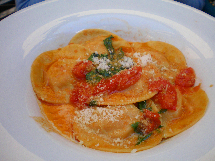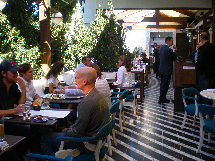 (Buffalo Mozzarella Pizza–You Know I Can't Resist, My Driving Miss Daisy's Crab Ravioli and A Little View of the Patio)
I continued on the classic train with a Buffalo Mozzarella Pizza (lactard buffalo/not cow-style), which was really chewy (in a good way) and had incredibly fresh tomato sauce and an almost smokey flavor to the crust–I loved.  And, though I skipped dessert, I'm definitely planning to head back and hit that sweet stuff soon.
Rumor has it that breakfast is amazing (and extremely reasonable) and also there's Prosecco on tap on the way.  Especially by comparison to scenester spots like
The Ivy
, where celebs and execs go to make appearances and literally be seen, but the food is pricey and largely uneventful, Cecconi's seems like a lovely alternative.
But hopefully not
too
lovely.  Cause we'd all love to continue to be able to get in.  Even in an economy that's not so messed up (blah, blah blah–who wants to talk about that?)
Picture it, LA, 2010 . . . 
xo – N.