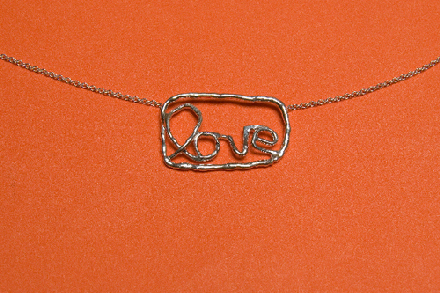 So, it turns out that "
Watts
" represents more than just Mary Stuart Masterson's role in
Some Kind of Wonderful
.  Go figure.  No, but seriously, not only have the 17 
Watts Towers
–originally built in spare time by an Italian construction worker–been in a restoration-phase (now apparently without scaffolding for the first time in ages), but artists have begun a crusade to upgrade the homes directly across the street (referred to as an "artwork-as-neighborhood-redevelopment" project).  The campaign has been led by artist
Edgar Arceneaux
, but I think
LACMA
is sponsoring the latest endeavor.
Now, according to LA><ART, artist Alexandra Grant has designed the above "Love Necklace" in order to raise money for the project.  She hopes to prop a "Love Sculpture" atop a home's roof on 107th Street and you can buy the $150 piece via the LA><ART website.
I admit the concept feels a bit
on-the-nose
, but–perhaps thanks to contrast and juxtaposition–it could be cool looking.  Just in time for VD Day . . .  Oh, wait.  That's redundant.  Unless we're celebrating VDs.
Anyway, I plan to go check this whole scene out myself shortly.  Just as soon as I can reach Eric Stoltz. No, really, I'm going.  With Eric Stoltz.  No.  But I am going to go.  Really.  Eric?  No.  But I am.
xo – N.
P.S. I have to admit that I saw
He's Just Not That Into You
yesterday and their reference to
Some Kind of Wonderful
 may be the ONLY reason why I remembered that the character's name was Watts. Props.