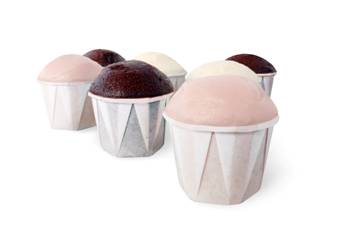 Okay, I admit it.
I haven't even tried Sprinkles' Frozen Frosting Shots yet (they launched on Monday).  And, when I do, they might just obliterate my little lactard self.  But no risk, no reward.
And so I advocate for trying this ingenious little invention.  Now, if you are an icing hater like The Drewser or R. than I assume you'll despise these things and say inane things like, "That sounds waaay too sweet."  BUT I come from a different school.  I'm more of a salt person than a sweet, but I make an exception for anything traditional birthday cake-esque (or with Fleur de Sel) and icing falls into that first category.
Growing up, my sister and I used to buy entire vats (well, okay, pints) of icing and just eat it with a spoon straight from the container, while we watched Revenge of the Nerds from the carpeted floor.  We had no intention of baking at all. I admit that we were a bit junk food deprived, as my mother was on a serious 1980's health food kick: think carob-covered rice cakes.  (I also used to buy Lucky Charms, just to pick out the marshmallows.)  But, still, my love of icing persists and I haven't made a Lucky Charms marshmallow sculpture since college.  So, why should we be relegated to eating the remains off a spoon or on a baked good?
Free at last (despite the minor bondage of Lactaid)!
Anyway, these babies come in dark and milk chocolate, cream cheese, strawberry and vanilla.  And they're small, so your guilt should also be assuaged.  For .75 cents a pop, you really can't go wrong.
I mean, how could you go wrong anyway, when something is just so damn right?
xo – N.
P.S.  Will keep you posted for when I actually try one!!!