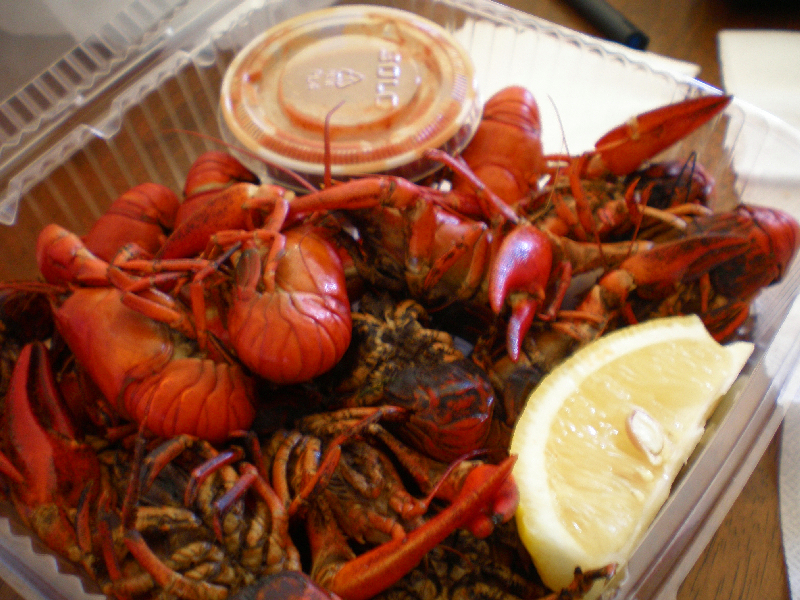 Like most normal people (especially non-football fanatics), I associate the Super Bowl with two major components: chips and dip.  Oh, I know, I know.  There's also the whole game thing.  But the big draw is the food.
Basically, Super Bowl Sunday is like the one day normal women get to consume crappola (from seven layer dip to Ruffles) guilt-free like so many pregnant ladies or college frat boys.
This year, in honor of The Saints (even though Andre and I also sort of rooted for Peyton Manning too), we decided to mix it up and get cajun food from the Farmer's Market's Louisiana spot The Gumbo Pot.
Though I've probably eaten at the Farmer's Market a thousand times, I've never actually gone cajun/creole (though I fell in LOVE with New Orleans and the food there on a trip a few years ago).
For this occasion, Andre went on the quest solo and came back with a slew of incredibly tasty and spicy eats: Shrimp Po' Boys (made a million times more delicious with very thinly sliced, tangy lemon inside), Jambalaya with fish and hot sausage and the above peel-and-eat crawfish.
And it was all SO DAMN GOOD.  Now that's worth flashing someone for.  Mardi Gras beads be damned.
xo – N.