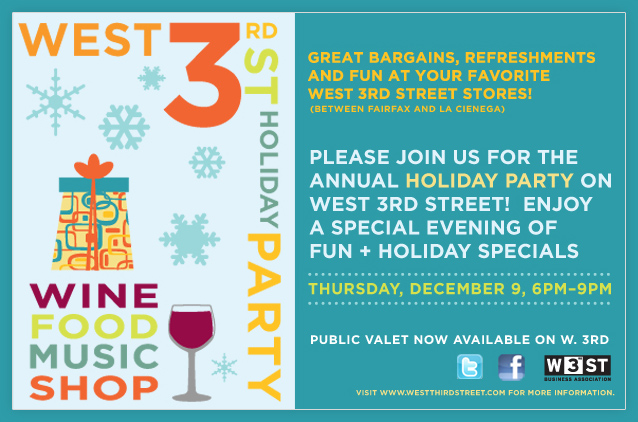 Some people love the Fourth of July (people without fears of stampeding crowds and fireworks).  Others favor Thanksgiving or Easter (people who like stuffing and searching for eggs).  Still, others prefer Valentine's Day.
Actually.  That's just not true.  Everyone hates Valentine's Day.
ANYWAY … my favorite day of the year, at least in my little 3rd Street neighborhood, is the evening of the Holiday Block Party.  Picture it: Free Joan's on Third eats (and snacks from tons of restaurants as you march up the strip), a glass of champagne as you peruse discounted home decor items, red wine as you check out (again discounted) winter/spring clothing from cute boutiques, a gratis gelato cart, gratis tacos and lots of friendly people on the street, wandering around to Christmas Music tunes.
Honestly, it's the GREATEST.  You can even pretend you live in a walking city!  And the shops are open until 9pm, so you can finish your holiday shopping (or in my case, shop for myself).
Because SOME people prefer their birthdays.
xo – N.