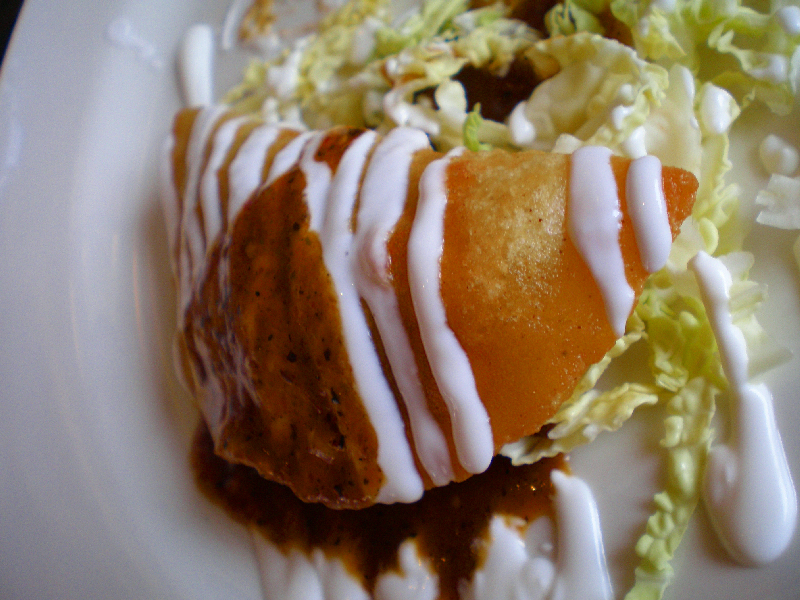 Time was when a girl like me didn't know her molé from her tequila y sangrita.  Growing up on NYC's Upper West, we ate more Cuban Chinese food from La Caridad than we did Mexican (or even Tex-Mex).  And whatever we did get came from one single restaurant called Alameda, from which I inevitably ordered flautas because I didn't know what else to do.  Now, I think Alameda is a Cosi or something.
Well, one move to LA and two trips to Mexico City later (not to mention Andre's introduction of fajitas–I know, I know, I'm so late to the game sometimes that it's frightening), I'm a true Mexican food fan.  And LA is a Mexican food hotbed (tacos are practically a local religion) with restaurants slanting as subtly as more Oaxacan or Mexico City-ish, for example.  Tacos, Tacos, (and my personal favorite) Shrimp Tacos.
So, needless to say, I was psyched to sample chow from new spot Yxta Cocina Mexicana from Jesse Gomez, the owner of more low-key Highland Park spot El Arco Iris.  And I was not disappointed.  First of all, the setting is totally ideal.  Well, let me actually rephrase that: the restaurant is in a still borderline area of Downtown LA, where a bunch of high-end restaurants have recently emerged.  For me, the neighborhood just lends credibility to the food (even if it shouldn't), but I definitely had a moment of, "Am I going the wrong direction?"  Most of what I've experienced down this way has been in the vein of art openings in warehouse-adjacent galleries.  Isn't "adjacent" such an LA word?  But I digress . . .
The decor is really quite understated and chic, at once friendly (exposed brick) and industrial (exposed piping).  This feels more like a Silverlake or even Culver City gastropub than a stereotypical Downtown spot (stuffy or hole-in-the-wall) or stereotypical Mexican eatery (Taco Stand or kitschy low-lit mariachi-style joint).  Yxta is both modern and traditional with a menu carefully crafted from Gomez's grandmother's recipe, the executive chef's Mexico City roots and also what's happening in the culinary world right now (yup, fresh seasonal eats).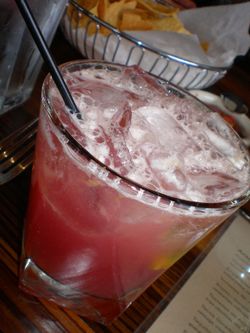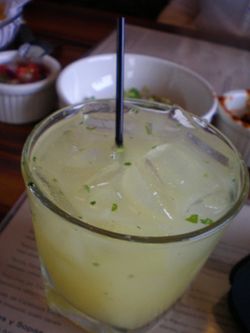 (CLICK TO ENLARGE: COCKTAILS–DUH)
First of all, the cocktails (yeah, so we dabbled at lunch–sue me!) were awesome, especially the newest addition: Real Piña with real pineapple, muddled pineapple, cilantro and jalapeño (!) (which I just loved despite my cilantro hatred issues).  Not too sweet at all and totally tangy–delish.  The restaurant JUST introduced a new Happy Hour, so that's definitely worth stopping in and sampling with some bar "adjacent" tacos.  Adjacent, adjacent, adjacent.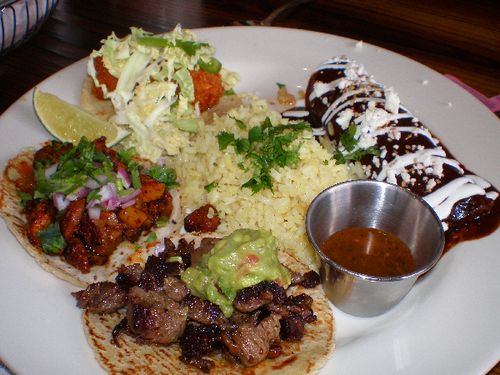 (TACOS AL PASTOR, PESCADO, ARRACHERA and ENCHILADA MOLE)
Jesse himself has a laidback vibe and the regular customers range from high-profile business types to east side hipsters to lunching police. He made sure we sampled an array of foods from Tacos Al Pastor, Pescado and Arrachera with skirt steak (all on homemade daily tortillas) to Enchiladas Mole and let me tell you–and I mean this–it was ALL good.  Gomez is so invested in the quality of ingredients that just the meat itself was flavorful enough to eat solo and the pickled onions, well, you know how I feel about anything pickled.  The Empanadas (pictured way up above) can be filled with basically any kind of meat you desire and they are just perfection, made fresh, of course.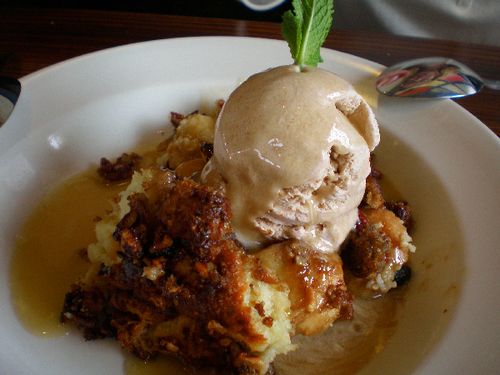 (CLICK TO ENLARGE IMAGES: CAPIROTADA or MEXICAN BREAD PUDDING)
And then dessert arrived and, I mean, the picture speaks for itself.  You know how good the above Bread Pudding looks?  Well, it was THAT good.  SO. DAMN. GOOD.  And I'm not even a sweets person.
And that was my experience at Yxta.  Seems like I'm finally almost fluent in Mexican food.  Too bad my pronunciation of the restaurant's name is only correct adjacent.
xo – N.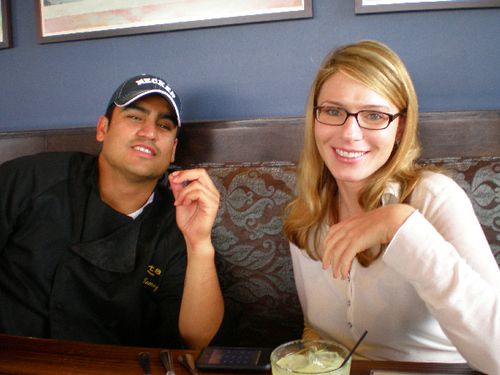 (A LOUNGING ELUSIVE OWNER JESSE GOMEZ, WHO MAY NEVER LET ME IN HIS RESTO AGAIN BECAUSE HE HATES HAVING HIS PICTURE TAKEN & LONGTIME PAL EILEEN COLAVITA)