LA (COSTA MESA): THE BEST NEW UPSCALE PIZZERIA
By Nora Zelevansky / January 28th, 2009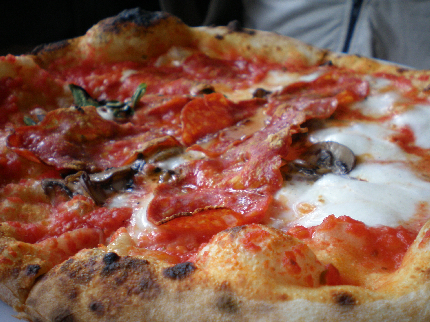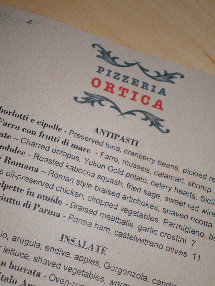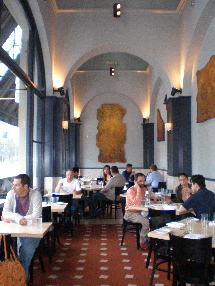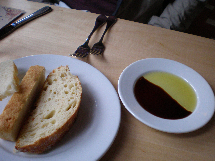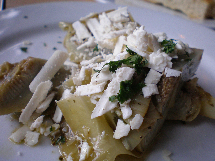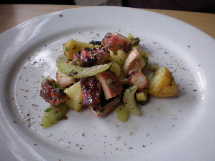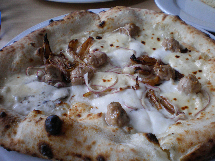 Poor Costa Mesa. Unlike its famous (and infamous) siblings, this O.C. town has never hosted an MTV reality show or even Snoop Dogg.  Luckily, now David Myers (of Comme Ca, Boule and Sona fame) has opened Pizzeria Ortica, so C.M. has it's own claim to fame.
Now,
anyone who is even partially responsible for Boule's Fleur de Sel eclairs is a GENIUS of epic proportions in my book (literally one of my favorite desserts of all time)
, so A. & I stopped into Myers' Pizzeria Ortica for lunch on the way down to San Diego this past weekend.  And I was psyched that we did: A. started with Charred Octopus (which he
always
loves).  I'm sometimes on the fence about the tentacle-touched foods, but this was so tasty and the consistency wasn't intense. I had the Roman Style Braised Artichokes with shaved ricotta salata, which were incredibly flavorful and delicious.
Pizza-wise, I thought
t
he crust was nice and chewy
.  My order was actually totally out of character for me, but yummy: Salsiccia e Finnocchio (which you know I didn't even attempt to say) with house-made sausage, caramelized fennel, mascarpone, red onion and buffalo grana.  Andrew's choice, Salame Piccante e Funghi (M
argherita with spicy salami and mixed mushroom
s
), was even more up my alley. I could have eaten that for days . . .
And, speaking of eating for days, some unrelated info: if you don't know, it's
Restaurant Week
here in LA.  So a good time to sample some new spots for lower prices.
xo – N.