LA (HOLLYWOOD): CRUMPLED TWENTY
By Nora Zelevansky / February 12th, 2009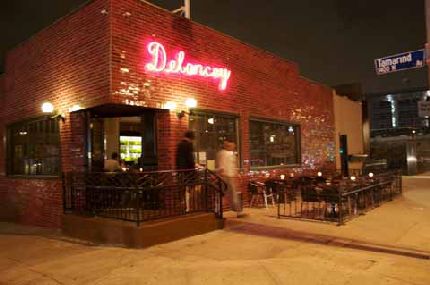 Every so often you wander into an LA spot and find yourself transported elsewhere: such is the case (in my book) with Hollywood's
Bowery
bistro, where–in an intimate, NYC West Village-esque, beautifully tiled space with specials scrawled across a chalk board–locals (like moi) dig on deeply flavorful burgers (served on English Muffins), wine and beer.  (The pharmacy parking lot on Sunset & Fairfax also transports, but that's more like to a East Village crack den circa 1985, so that's another story).
Well, according to Daily Candy's
Weekend Guide
today, the Bowery owners have launched a tasting room at their newest Hollywood spot: Pizzeria & Bar 
Delancy
.  Obviously, a Lower East Side NYC-theme rules the roost and, while DC focuses on the vino situation, I think some of those pizzas sound pretty amazing.  Yes, in true lactard fashion, I especially like the sound of the Essex with Salumi, Cannelini Beans, Black Olives and Sheeps Milk Ricotta.
BTW–I am an olive fanatic.  Another fascinating tidbit about me.  And another must-try place for pizza.  Add that to the list . . . I'll get back to you with a full report!
xo – N.