Q & A: Karaoke Question, Best Place To Belt It Out?
By Nora Zelevansky / February 25th, 2009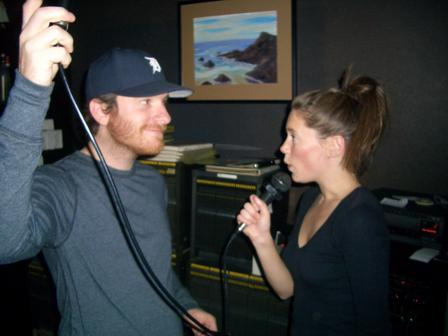 (M. & P.S. Bring Down The House Echo Park-Style)
Question:
(posed by Connor via "Ask Lifestyle Questions"–02/18)
Hey Nora, what's the best place to go for group Karaoke?  Where you can rent a room for a large group?  Or maybe a bar with karaoke?
I love your blog!  Hugs, Connor
Answer:
 First of all, I'm afraid you're only permitted to read this answer if you agree never to karaoke Sir Mix-A-Lot's
Baby Got Back
.  Hearing people drunkenly karaoke that song is like watching people dance to
I Will Survive
at weddings.  IT MUST STOP.  TOO MUCH.
Now that I've said my piece: I feel I'd be remiss in answering this question without first addressing the above photo.  My friend M. is the Karaoke Queen.  And, as anyone who has had ample karaoke experience knows, her royal highness fits the "unassuming" profile.  It's always the quiet, demure ones, no?
Anyway, M. not only transforms from adorably awkward, proper lady to maniac crooner at the first sign of an old school Britney or Destiny's Child ballad, but she also works serious dance moves.  It's truly a sight to behold.
Lucky for us, I have pictures: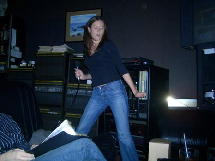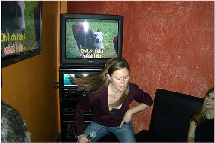 ANYWAY, here are some of my favorite places in LA, where I've watched M. go nutty:
EAGLE ROCK (and M. rocks too):
Okay, I know that
All Star Lanes
is TECHNICALLY a bowling alley and a trek, but bear with me.  First of all, they have bowling AND karaoke AND a bar on Saturday nights (double check cause the schedule changes).  Second of all, you're like blocks from
Casa Bianca
, so–for my 29th birthday for example–I had a bowling party, followed by drunken karaoke, followed by eating our weight in crazy inexpensive yummy Italian food at Casa Bianca (they take reservations for parties over six, I believe).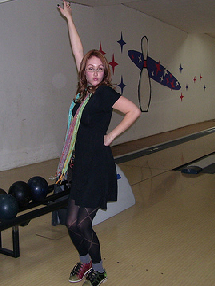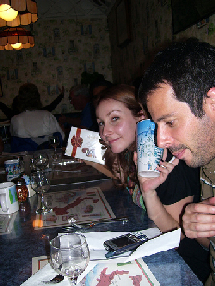 (Bowling at the 29th in Andrew's Glasses and Then At Casa Bianca With My Prizes NOT For Birthday, But For My Impeccable Bowling and Karaoke Skills–YUP)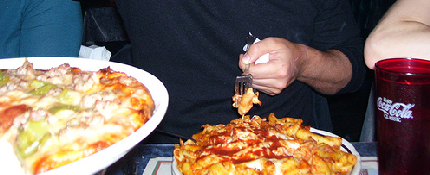 (Yum, Casa Bianca that night too . . . )
HOLLYWOOD (and so would M.):
AMAGI
is a bar situation in Hollywood.  I'm not sure about private rooms, but their karaoke area in intimate enough not to feel intimidating, so . . .
BRASS MONKEY
is an old standard for locals; they've actually been open since 1971.  This is a great option if you want drinks AND snacks, as they're actually a cafe too.  Every night of the week!
OIWAKE
in Japanese Village Plaza is always festive and you can eat sushi and drink sake while you sing.  I just really like the
Little Tokyo
karaoke scene cause I get it feels authentic.  Apparently,
City Cat Karaoke
has private rooms, but I know a bunch of the Little Tokyo spots do.
I know K-Town has some great spots, but I haven't experienced anything except Zip for cocktails.  Same with Sawtelle.  So, if anyone can recommend some good Korea Town and west side spots, then please "
comment
" below and let us know!
Also, it's hardly a private room scenario, but bars like Barney's Beanery and
Guys
(sorta underground star-studded) totally do weekly karaoke nights.
Kinda makes you want to sing.  And dance.  Right, M.?
xo – N.