LA (CULVER CITY): THE BEST BAG OBSESSIVE'S PARADISE
By Nora Zelevansky / March 9th, 2009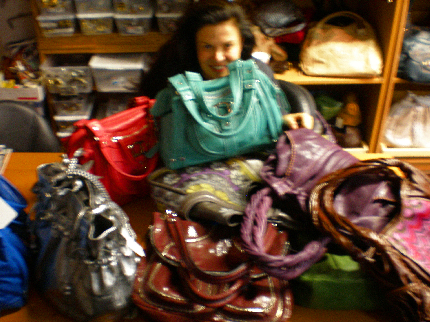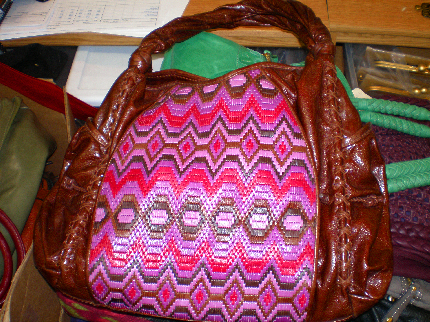 (Lockheart Co-Founder Jennifer Tash & The New Bag Love of My Life)
I love bags.  You love bags.  We all love bags.
 Those of us with souls and boobs love bags.  Personally, I'm particularly fond of the bold, unabashed colorful ones (though not necessarily busy), which make a boring old jeans and tee combo feel fresh.
So, a couple years ago, when I was lucky enough to meet Jennifer Tash, co-founder (with longtime biz partner Trang Huynh) of burgeoning bag line
Lockheart
at their Culver City offices, I was blown away by the whole situation:
First of all, never have I met a bunch of "bag ladies" with so much passion and true commitment to their craft.  Second of all, you walk into this bustling sort of creative, chaotic wonderland and can basically experience the life-cycle of a tote, hobo, or purse from the leather scrap and inspirational image stage to a rainbow of "rich hippie"-style samples with Lockheart's signature vintage hardware, high-end textile lining and countless innovative pockets.  (All the better to hold POCKET LINT, my dear).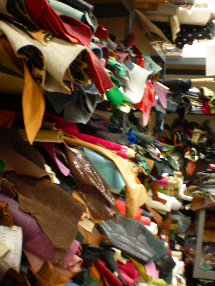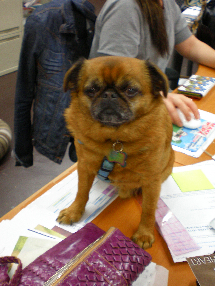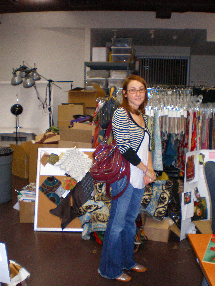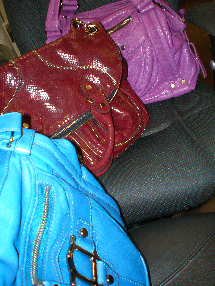 (Leather samples, Just One Of The Many Lockheart Doggy Mascots, Me Looking Sloppy Compared To Another Fabulous Bag, Just Some More Fabu Bags)
To this day, when I come by their offices to view a new season's collection or to grab some goods at one of their seriously incredible sample sales (stay tuned at POCKET LINT for info on these UNMISSABLE sales as they arise), I plan to stay for 20-minutes and an hour later I'm still touching, ogling and oohing and aahing.  Cause, even when a Lockheart bag gets too embellished for me or just doesn't quite suit my style, the techniques are fascinating and the quality is impeccable.
Most, recently, I fell in love with the above (top) pink, purple and brown Bargello Geometric Yarn-style bag, which looks like a woven thread pattern, but is actually made with leather.  And I ended up writing a story for Riviera (O.C.) about the bag's young SoCal designer, Genette Sasser, who actually started out as a shoe designer. You can read that
here
.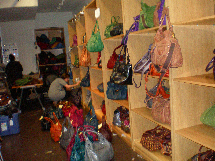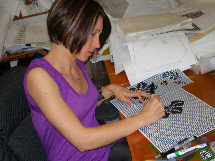 (Bags, Bags, Bags and Genette Creating Patterns For Bags)
Anyway, these ladies have been promising to get their website up-and-running for a while, so keep an eye out cause it should be up soon.  (Meanwhile, if you google them, you'll find lots of e-stores, but specifically I found the Bargello-style clutch at
Saks
).  And keep an eye out here for sample sale info too.  Seriously, the sales are not to be missed.  From one bag lover to another.
xo – N.