DELAWARE (BETHANY): THE BEST SHOP IN BETHANY BEACH
By Nora Zelevansky / September 11th, 2009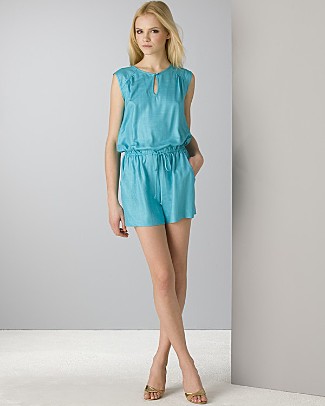 Well, it's September 11th.
Do you think that date will ever sound normal?  I sort of felt like I had to acknowledge that fact because it's like an elephant in the room before moving on to talking about something of real importance: a cute boutique amidst souvenir shops in Bethany Beach!
Sometimes, when you're down and troubled and you need a helping hand and nothing, no nothing is going right . . .  Okay, sorry.  Sometimes, when the weather gets crappy or there's just too much sand in my sandwiches, I'm moved to take a break from beaching to go shopping, ladies and gentleman.
Although nearby Rehoboth does offer a slew of outlets, Bethany Beach is hardly Madison Avenue or even Melrose Avenue, if you know what I mean.  It's small town for reals.  Still, I found solace in one sweet shop called Rose Garden (there's one in Rehoboth too), where I found familiar friends like Lockheart bags and Tibi Skirts.
Anyway, on top of having a sweet little selection, the shop also was having a 40%-off sale and, though I don't usually do Trina Turk, I ended up buying the above romper in a sort of gray/green color.  Or maybe it's brown.  Whatever.  It's cute.
So, if you ever head that way, make sure to stop in.  It's like a home away from home.  If you spend your life trolling boutiques.  For work.  I have to for work.
xo – N.