BROOKLYN (WILLIAMSBURG): THE BEST AUTUMNAL PIZZA & BUTTER RUM ITALIAN SODA
By Nora Zelevansky / November 10th, 2009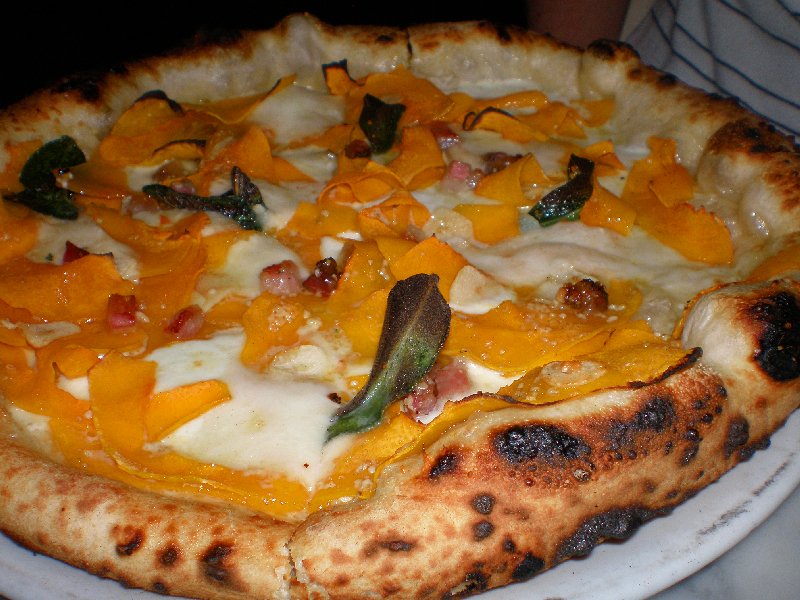 Of course, more so in NYC than in LA, making a name for yourself in the pizza biz is tricky.  I guess first a distinction needs to be made between by-the-slice and a more high-end artisan version with farm-to-table ingredients and the works.  But, still, the competition is stiff, so standing out depends not only on creating the most amazing version, but also on innovating new types.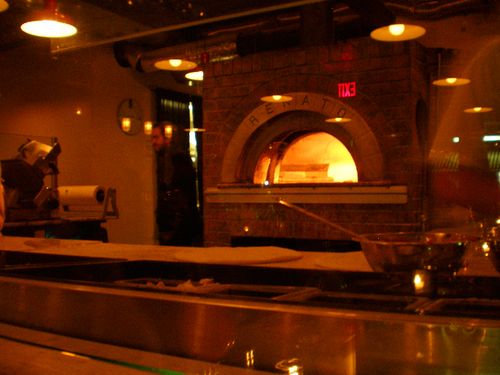 Well, I had the extreme pleasure of tasting some such new-fangled innovations (or at least unique bites) at Motorino in Williamsburg, when they hosted me and my friend A.P. for dinner.
First of all, the setting is totally ideal for fall: cozy and comfy and down home with a small dining room and an open pizza oven kitchen (see above).  Second of all, A.P. and I are like the most annoying diners because, while we both LOVE to eat, we eat have dietary restrictions.  I can't do cow dairy; she can't do wheat.
That said, since pizza is basically wheat and cheese, we decided to cheat just a bit, but also do what we could to get around the whole issue.  As a lactard, of course, I LOVE any pizzeria that offers to replace cow milk mozzarella with buffalo on any pizza.  Thank you, MOTHER LOAD!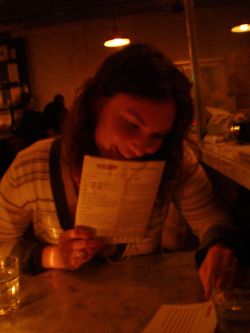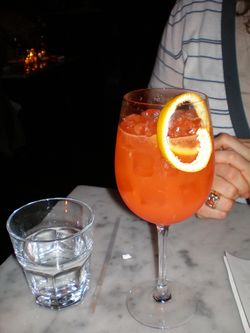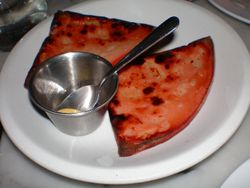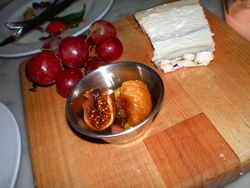 [CLICK IMAGES TO EXPAND: A.P. perusing the menu, The Fashionista cocktail, Mortadella grilled and served with mustard, Humbolt Fog goat cheese]
From their relatively vast Italian soda menu, I ordered a Butter Rum soda that really tasted like candy–I loved it!  Ever since I found out I was lactarded, I have craved butter rum ice cream (though I previously hated all things remotely butterscotch-related), so anything in that vein makes me happy.  Then A.P. ordered the above Fashionista cocktail (we'll excuse the name) with aperol, white wine and orange.
After a delicious baby spinach salad, olives with preserved lemon and chili, mortadella grilled and served with tangy mustard (which I would never have thought to order unless the chef sent it, but it was amazing!), some bresaola and prosciutto with lemon and Humbolt Fog goat cheese served with figs and pistachios in honey (KILL ME NOW–the sweet, sour and salty combo is so good!), A.P. and I wondered if we could possibly eat another bite.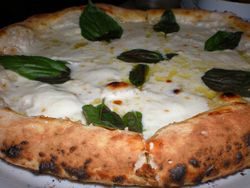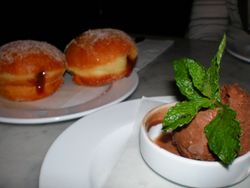 [CLICK IMAGES TO EXPAND: Buffaline Pizza and Homemade Jelly Donuts and Chocolate Gelato]
But, where there's a will, there is definitely a way.  And faced with the simple, but unique Buffaline Pizza with mozzarella, olive oil, raw basil and sea salt and the seasonal (a revolving part of the menu) pizza with squash, pancetta, mozzarella and sage, we dug deep and found a way to get through a good portion.  It was DELICIOUS and really different than your usual tomato sauce version.  I'm not generally even a white pizza fan, as I always find it too rich, but the flavors were so unique (sweet, salty, tangy and sharp) that it was just cheesy heaven.
And, for dessert, we ordered the above homemade jelly donuts with chocolate gelato (which I believe had a fancier Italian name).  A.P. ate the ice cream and I, of course, devoured some of the donuts.  Cause that's just how we do in the hood.  If the hood, that is, is Williamsburg.
xo – N.