LA (SAWTELLE): THE BEST SHRIMP & EGGPLANT IN BROTH YOU'LL WANT TO DRINK
By Nora Zelevansky / April 19th, 2010
I've been diagnosed with malaise.  By my sister, Dr. C.  She got her honorary degree online via Web MD (and by that I mean that she checks the site A LOT).  Anyway, I'm not about to come down with some serious disease (um, we hope–knock on wood! Knock on wood!), but I'm a little antsy and blue and basically I'm craving some shift in the routine.
So, with a fresh experience in mind Saturday night, Andre and I decided to check out a new restaurant for dinner.  I perused Jonathan Gold's most recent 99 Essential L.A. Restaurants list and found, Kiriko, a Japanese restaurant just of Olympic on Sawtelle.
I was sort of tempted to jump ship and head to one of Sawtelle's many awesome ramen joints, if I'm honest, but we stayed the course and it was worth the trip.  I wouldn't say that every single dish blew our collective mind (say "no" to the spicy miso albacore handroll, which tastes neither spicy nor like miso), BUT a few dishes really stood out: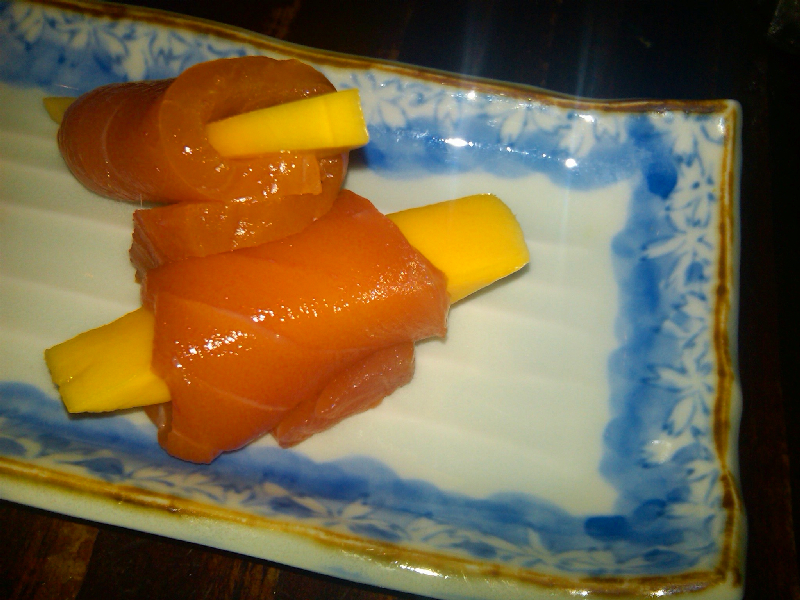 As Jonathan Gold suggests, the super smoky salmon wrapped around fresh mango is AWESOME and, though simple in its ingredients, complex in its mixture of flavors.  The sweet mango kind of cuts the salmon's flavor, which is seriously reminiscent of the smoked mozzarella I grew up eating from Fairway.
But our favorite find was definitely the eggplant and shrimp in broth (pictured above).  Now, I LOVE Agedashi Tofu in almost every form I've ever sampled.  If you haven't had it, it's basically lightly fried tofu in a sweet, salty and mild soy broth, usually with some grated radish and daikon.  In this case, you're having the Agedashi Tofu experience, but instead of tofu you have this amazingly flavorful, warm and amazingly textured eggplant stuffed with shrimp soaking in the broth.  I'm not going to lie.  It was amazing.
Andre and I were initially drawn to the dish because we LOVE an eggplant stuffed shrimp dim sum dish from Empress Pavilion downtown in Chinatown.  (I'm going to go out on a limb without Andre here to confirm and say that it's probably our favorite dim sum dish.)  That one is drizzled in black bean sauce and is also DELICIOUS, but definitely a different thing.
But different is good.  At least I think so.  After all, it's the only real cure for malaise.
xo – N.