Good News & Bad News & Shameless Self-Promotion
By Nora Zelevansky / January 10th, 2012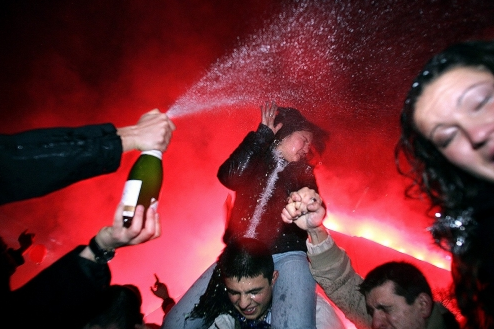 Okay, so the bad news is that I'm a day late with The Bachelor recap.  Sadly, I was out last night and never got to watch the show.  Booo hisss.  But I'll watch later tonight and then write about it.  Promise.  Crossies don't count.
The GOOD news is that I have a bunch of stories to share, including my first Newsweek/Daily Beast story about "Janupause" or the abstinence from drinking for the month of January.
What else?  I spent much of the last week of December writing stories for elle.com about Kate Somerville's new Dermal Quench Liquid Lift, Dionne Phillips' at home eyelash extension kit, touchscreen gloves (for using your iPod in the cold weather), a new line from Burt's Bees, NYE romance tips from author Harlan Cohen and, mostly recently, a DIY (at home!) gel manicure kit.
I also interviewed a YA novelist and all around cool guy Paul Griffin about his new book, Stay With Me.  He's a dog trainer too, so there's a pit bull integrated into the story line.
That's sorta all for now.  I promise to watch The Bachelor and report back, although the inside scoop from another loyal watcher is that this episode was snoozeville.  Only time will tell!  Anyway, boring Bachelor is still better than most things.  Sad, sad statement.
Oh!  And, based on the advice of the social media person at St. Martin's, I created my own Facebook Author page for my book SEMI-CHARMED LIFE that's coming out in July.  If you "LIKE" it, you can get updates on readings and stuff like that.  Also, if you LIKE it, I will LIKE you.  And what could be better than that?
xo – N.